Instruction
Savoy cabbage looks like cabbage. However, it is impossible to confuse them. Savoy cabbage leaves are more thin and delicate, and have a vesicular structure. Their color ranges from light green to dark depending on the variety. The heads loose, small in size. Savoy cabbage possesses an excellent taste and nutritional properties. Has considerable hardiness. However, it is not common, because it has a low yield, not suitable for canning and fermentation and poorly stored fresh.
Storage suitable varieties late ripening. Early maturing varieties are very badly preserved. Clean Savoy cabbage late cabbage because it can tolerate temperatures down to -7 degrees, and its taste only improves. Plenty of cabbages intended for storage of not less than 0.4 kg. They should have 2-3 tight covering sheet that protects from dirt and damage. Carry the cabbage in boxes or baskets, as the heads are easily damaged.
Store Savoy cabbage in the cellar at a temperature of 2-3 degrees and a relative humidity of 90 -95 %. Well established storage roots. The roots of cabbage pricopie or fill with wet sand.
Savoy cabbage can be stored in wooden boxes or on the shelves. Cabbage arrange in a row, stalks cut to 3 cm, leave the top 2-3 of the sheet.
Well kept Savoy cabbage with preserved root system to insulated balconies and sheds. The head position in a standing position or hang it.
Savoy
cabbage
with
preserved
roots can be stored in the trenches. Cabbages laid when the air temperature is 1-2 degrees, do a layer of paper or plastic film, through a series of pour land.
Advice 2: How to cook Savoy cabbage
Savoy cabbage is dark green with a tracery like corrugated sheets, which are native to the blessed Italy – considered the most tender and sweet of all the varieties of this vegetable.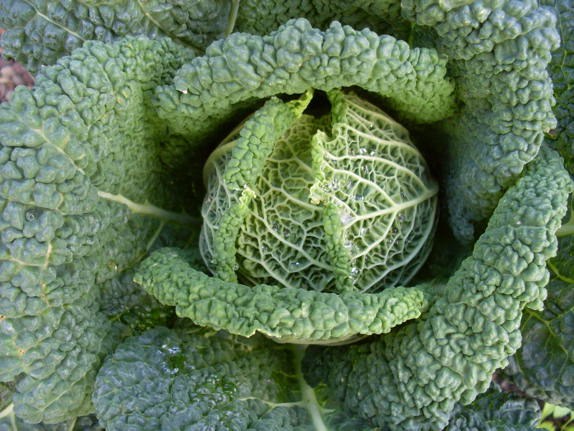 You will need
Braised Savoy cabbage with bacon

1 head Savoy cabbage
100 g of bacon
50 g butter unsalted butter
90 ml dry white wine
2 tablespoons chopped fresh parsley
2 teaspoons fennel seeds
2 tablespoons of sour cream
salt and freshly ground pepper
Savoy cabbage
stuffed pumpkin with rice and bulgur
6 leaves Savoy cabbage
250 g Butternut squash
2 tablespoons olive oil
salt and freshly ground black pepper
1 onions
1 clove of garlic
100 grams of cooked bulgur
100 g of boiled rice
30 g chopped fresh mint
For the sauce
150 g Greek togruta
50 g of fresh cucumber
½ Lemon
1 clove of garlic
salt and freshly ground black pepper
Instruction
Choose for cooking dark green cabbage Savoy cabbage with crispy curly layered curved sheets. Good heads – dense and heavier than you would expect from a vegetable of this size. Note that this kind of cabbage is stored no longer than one week in a cool dark place. The season for Savoy cabbage starts in October and lasts until February.
Before cooking Savoy cabbage apart on the sheets and cut them wedges solid serdtsevinka. Vegetable stewed, added to soups, stuffed in the manner of cabbage. To be wrapped in cabbage leaves minced, need them pre-blanched – dipped first in boiling water for a few minutes and then immediately into ice water.
Braised Savoy cabbage with bacon

Prepare the cabbage. Cut out the tough veins and cut the leaves into long strips. Melt in a large saucepan oil. Bacon cut into small squares and fry on medium heat for 3-4 minutes. Put the cabbage and stir. Pour in the wine, cover and simmer for about 10 minutes, until the cabbage will become very soft. Sprinkle with fennel seeds and chopped fresh parsley, add sour cream, mix and serve as a side dish or as a separate dish.
Similarly, you can season the cabbage not bacon, parsley and fennel and other herbs and spices. Try a combination of roasted garlic, rosemary and sliced almonds or pine nuts and thyme. The delicate flavor of the Savoy cabbage well padded and goose or duck fat.
Savoy cabbage stuffed with pumpkin rice and bulgur

The leaves of Savoy cabbage, blanch in salted water. Pumpkin peel and cut into cubes, spread on foil covered baking sheet in a single layer. Season with salt, pepper and vegetable oil. Preheat the oven to 200oC. Bake the pumpkin until soft, this will take 25 to 40 minutes. Peel the onions and cut into small dice. Saute until transparent. Mix baked squash, boiled rice and bulgur, fried onions, cleaned and crushed garlic, the chopped mint leaves.
Prepare the sauce . Grate the cucumber on a fine grater, squeeze out excess liquid. Add in the thick yogurt. There also squeeze the juice of half a lemon, put the peeled and chopped garlic and season with spices. Place one tablespoon of filling onto the edge of a cabbage leaf, turn them into a cylinder and serve, watering sauce.