You will need
water for pasteurization;
ceramic or glass dish;
halo;
mixer;
sugar.
Instruction
To prepare the dessert is better to take only fresh eggs from proven manufacturers. There are several ways of separating the whites from the yolk. You can skip the protein through a special nozzle (sold in hardware stores), or use a paper funnel. Just as easy to extract the protein, pierced the egg with two sides of a thick sharp needle.
If you want to protect yourself from salmonellosis, it is possible to carry pasteurized egg whites. Mix proteins with water at the rate of two tablespoons of water for one protein. Heat the mixture on low heat, do not forget to constantly stir. Removal of microbes it is necessary to heat the whites to a temperature of 60 degrees and hold them on fire for about 3 minutes. The temperature regime can be tracked using a pastry thermometer. In fact, if the mixture starts to bubble, remove the pan from heat and quickly stir contents. Then you can continue heating.
After pasteurization, proteins must be cooled down to room temperature. If you beat them more cold, the foam will turn faster but will be less lush and sustainable. Place the whites in a tall glass or ceramic dish. In any case, do not use for whipping protein foam aluminum cookware, otherwise the mixture will become gray. The dish must be perfectly clean and dry, if moisture and fat gets into the whites, they will not be able to become truly air.
Beat the whites you can manually, using a regular whisk. But will have to spend a lot of time and effort. Therefore, for the preparation of a protein foam is better to use a mixer. The perfect beater of this product is the frame. Start on low speed, gradually increasing it. If you whip the whites at once, they will become liquid and will not be able to rise. Watch carefully so the mixture were involved in the process of beating and rotated evenly.
When you need to enter in the foam with sugar, add it gradually (about half teaspoon) to the already well-formed mass. If you pour all the sugar at once, it immediately dissolved and the proteins will lose their shape. As you add sugar the process of churning does not stop.
Well-beaten whites increase in volume by about five times. After putting some of this foam on the product or the tray, it perfectly retains its shape and does not spread.
Advice 2: As vzbit proteins in a dense foam
Whites, whipped in a dense foam , or as it cooks, until stiff peaks are used in many baking recipes and not only. There are various soufflés, meringue, meringue, icing, and cream. Regardless of the purposes with which you whip the whites, there are several factors that can affect the protein foam and turn your culinary adventure into a disaster.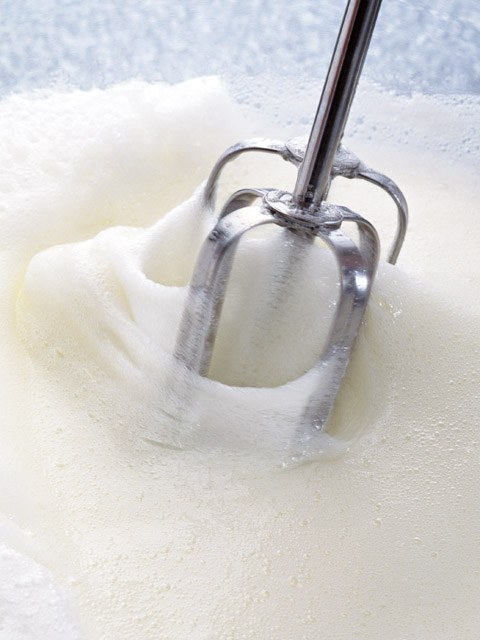 You will need
- eggs;
- sugar or sugar;
acid.
Instruction
Freshness acluche just beat the eggs that are at least 3-4 days. Fresh egg
protein
"thicker" and whipped harder, giving less volume. The eggs are "older" protein thinner, and though the foam from it less stable, but its more.
The office will alcapone that separate chilled white from the yolk much easier than warm, so keep eggs in the refrigerator until the moment you are going to break them. Don't let any yolk into the bowl with the squirrels, he will not allow them to take the right amount. If still a bit of it fall into the tank, remove the patches with half the eggshell. In any case, do not try this with your fingers, even if you believe in their absolute purity. Your skin always has some fat, but it also prevents the formation of foam.
Temperature belcaire the whisking, bring the whites to room temperature. Yes, the cold whites whipped faster, but give a warm rich lush and persistent foam, they have more air bubbles.
Postapostolic spotlessly clean and dry bowl of glass, stainless steel or copper. Plastic utensils often absorb fat and moisture. Even a few drops of water can ruin your meringue. It is therefore not recommended to beat squirrels in areas with high humidity.
Speed mixerlayout beat the protein at low speed, gradually moving to the middle. The more you whip the foam, the smaller the bubbles in it and the more they produce more, which increases the volume and gives a stable structure.
Introduction Saharan introduce sugar or powdered sugar before I start whipping protein. Such actions will lead to the fact that the time you spend on getting a stable foam will be doubled. On average, one protein put at least 2 tablespoons of sugar. When you pour all the sand, still whisking, take some foam and RUB between your fingers. It should feel smooth with no grains, but not too hard. If you feel the crystals of sugar, continue whisking until they dissolve.
Stabilizatoriaus, such as lemon juice, cream of Tartar or vinegar, will serve as foam stabilizer. Use about ½ teaspoon of one of these ingredients for every 4 protein.