You will need
- ultraviolet lamp;
- quartz or a crystal of a suitable size.
Instruction
Genuine Topaz is very well polished. It feels silky, some slipperiness, it can be easily distinguished.
Topaz, you can have a different color: blue, pink, yellow. But that's a smoky Topaz or Topaz irrelevant to the real Topaz is not. It is a kind of crystal or smoky quartz. Therefore, in their properties it is closer to the crystal than to the present Topaz.
Natural Topaz is harder than quartz (crystal), which usually make fake. The density of seven units of quartz, Topaz is eight. Therefore, this will always leave Topaz on quartz from scratch.
Compare your Topaz with quartz of the same size. The density of Topaz above, and therefore for the same size, it will always be a little heavier. For this property is Topaz in Russia called "tuloverolaki".
Synthetic stones always look too good in comparison with natural. Large gems of natural origin always have small defects. Natural Topaz big size without defects, of course, exist, but are quite expensive.
Note the brilliance of the stone you intend to buy. Cheap cubic Zirconia and zircon at its brilliance can be compared only with diamonds. Natural gems such brilliance not possess. But the brilliance of cubic Zirconia disappears very quickly. Synthetic substitutes require constant wiping.
When the direction of the light changes the color of the Topaz. This phenomenon is called pleochroism, and is most strongly noticeable in the pink and yellow topazes. The blue stones pleochroism is not as pronounced.
Topazs has distinct "parallel" structure of the crystal. Therefore, in a large natural Topaz you can see parallel cracks.
Topazs luminesce in the ultraviolet wavelength range. The stone has a bluish color observed yellow or greenish glow, the wine and pink Topaz – glow orange-yellow. In shortwave Topaz don't sparkle.
Advice 2: How to distinguish a fake Topaz
The use of synthetic stones in jewelry became so common that it is not surprising neither sellers nor buyers. Synthetic stone, not every specialist will differ from natural without special equipment. But it is much cheaper.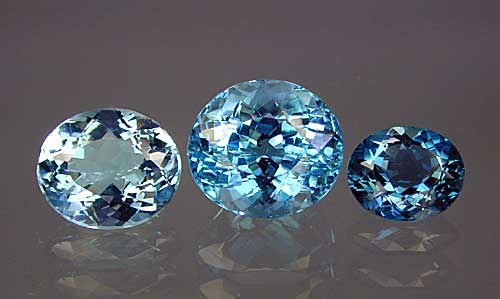 You will need
- a piece of woolen fabric;
laboratory gemologist.
Instruction
Choosing a piece of jewelry with Topaz, prefer colorless and light blue stones: they are relatively cheap and often it makes no sense to forge. Topazes from this painting, there is another important advantage: they do not fade with time, whereas natural stones more intense colors quickly lose their beautiful color, especially if you are constantly under the direct rays of the sun.
Please note that Topaz red and green colors rarely occur in nature and are not on General sale. Such Topaz stones are hundreds of times more than a colorless, blue, greenish, yellow (tea) or pink (listed in order of rarity and value). One of the most expensive and rare are also polychromatic crystals.
Take the stone in his hands: he must be cold and not just warm from the heat of your hands. RUB it with a piece of woolen cloth: the stone will get electrified. exactly and will attract light objects. Remember that is guaranteed to distinguish a fake only specialist gemmology using laboratory equipment.
Please note that Topaz is often irradiated to make richer natural, not bright the color of the stone. Irradiated Topaz loses its bright color for about two years, even if stored in the dark. Natural stone fades, but has the ability to restore color in the dark. Irradiated stones are considered as counterfeits, and there are at least two to three times cheaper than the natural.
Treat with caution for products with Topaz and bright blue or blue, standing quite cheap - most likely, it is irradiated and heat-treated natural blue or colourless Topaz stones, do not have this color.
Check out natural varieties of Topaz and their names: Topaz-Imperial (yellow-orange), sherry or wine (from orange-yellow to brown-pink) tea (pale yellow), silver (colorless), rutile (with inclusions of yellow), Saxon chrysolite (yellow-green). Trade names of irradiated Topaz are many and varied. Official trade name of imitations citrine.
Note
Please note that the yellowish and Golden stones are very unstable color. Known cases when such stones are burnt out right in the store window. That is why nowhere in the world except Russia, yellow topazes are not considered jewelry stone.