You will need
the colander;
water;
— green peas;
— sugar;
— 1-2 sprigs of mint;
Sol
pepper to taste.
Instruction
Decide on the variety of peas you want to cook. Green peas of brain grades is not very large, oval-shaped, taste sweet and is perfect for side dishes, pies, mashed potatoes. Polka dot glucosamin varieties of large, rounded shape. It is better to use for salads.
Give preference to fresh frozen green peas out of season or imported canned instead of fresh. With all the rules of frozen bean retains most of the nutrients. Before purchasing frozen green peas, carefully check the packing condition. In the package there should not be chunks of ice and snow, frozen beans, or else it indicates improper storage.
Collect for boiling whole pods bright green in color, densely filled with granules, but soft to the touch. Wash the fresh green peas in cool water, separate the beans from the pods.
Boil in a pot large amounts of water. Put grains of green peas in boiling water in small portions. The boiling must not stop. Then cover the pot with a lid. Fire set maximum. Frozen green peas lower in strongly boiling water without prior thawing, as it will become tastier and it will remain more vitamins. Add when cooking green peas with a bit of sugar. This will help to preserve the bright natural color of the beans. For taste and flavor in the broth, you can also put 1-2 sprigs of fresh mint.
Cook green peas 5 to 20 minutes, depending on ripeness and variety. Grain should remain solid, but soft, with delicate skin. Fold the prepared green peas in a colander and let the water drain out. Then add salt, pepper.
Combine boiled green peas with vegetables with a sweet taste, for example, with carrots, onions, beets, potatoes. Also, boiled peas can be added to soups, salads. If you want to prepare boiled green peas puree, then wipe or knead grain immediately after boiling is still hot, the mass turned out smooth without lumps.
Dip the grains of peas into ice water to stop it cooking and then place in the fridge if you don't want to use the cooked peas immediately. Then heat it in a mixture of butter and water. 1 part oil take 2 parts water.
Advice 2: How to cook green peas
The birthplace
of green peas
is South Asia. In Ancient Rome and Greece, green
peas
eaten only by the poor. And in France it was served for dinner to the kings. In Russia peas gained popularity only in the 18th century. Green
peas
refers to perishable products. For canning it is better to use unripe, as in this form it contains large amounts of vitamins.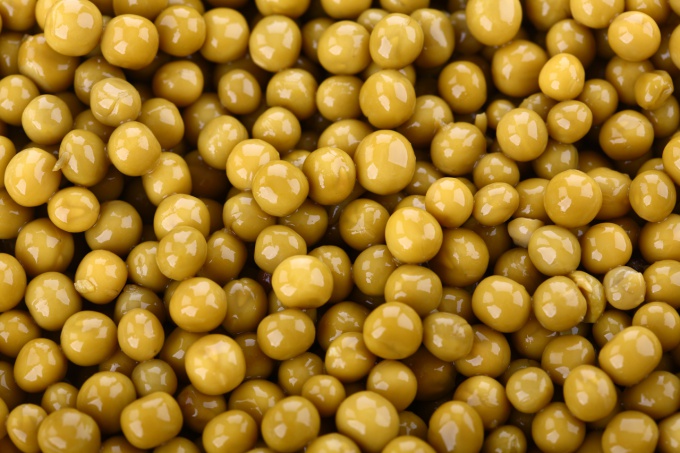 You will need
green peas – 3 liters
water – 1 liter
salt – 1 tablespoon
sugar – 1 dessert spoon with a slide
vinegar 9% for closing
baking soda for cans
Instruction
Wash green peas and separate the peas from the pods.
Well wash the glass jar with baking soda.
Boil water in the kettle. Reduce heat and remove cover. Put in a colander jar upside down. Soak each Bank over the steam for about 5 minutes, then the metal cap for one minute. In the end, cover the jars.
Fold green peas in a saucepan and cover with water. If you use young peas, then simmer for 20 minutes, but if more Mature, over 25 minutes.
Until peas are cooked, prepare the marinade. To do this, heat 1 liter of water and dissolve in it one tablespoon of salt and one dessert spoon with a hill of sugar.
From the pan drain. Put green peas in sterilized jars and cover with marinade.
In each jar on top, add one dessert spoon of vinegar.
Banks immediately roll. Flip, cover, and hold until cool. Make sure that rolled banks to store in cool place, canned green peas good be stored for years.
Is the advice useful?
Green peas has a lot of useful properties. It is an effective way to lower cholesterol. Due to the fact that it contains the substance Inositol, green peas helps to prevent fatty liver in humans. Inositol metabolism and, thereby, prevents the accumulation of fat in liver tissue, which subsequently prevents the development of fatty steatosis. Peas are used as a prophylactic agent against cancer since it has anti-cancer effects. Has a beneficial effect on the skeletal system. Other useful properties of peas include: strengthen immunity, improve mental performance, relieve fatigue. Green peas also contain proteins, which in its composition is close to the proteins of meat.