You will need
— carrot;
onion;
— spices to taste.
Instruction
Prepare
chicken ventricles
. If stomachs were frozen, leave them for 6-8 hours in refrigerator to complete defrosting. But the best way to cook chilled stomachs. Keep in mind that their shelf life is not more than two days. If you purchased untreated chicken "puposky", then remove the inner yellow harsh film and remove the internal contents. Also, cut the stem and clean off fat. Drench the stomachs of pre-boiling water to make them easier to handle. Rinse the gizzards under cool running water, slightly dry on a paper towel. Cut the ventricles into 2-4 pieces or leave whole.
Pour in a pot of cold water and toss it in chicken ventricles. Add a few Bay leaves, a few peppercorns, peeled parsley root or celery. For a taste of the broth, you can also put peeled carrots, onions. Add salt to taste. Bring the water to a boil. If during cooking will be formed foam, remove it with a slotted spoon. Then turn down the fire to minimum and cover the pan. On average, chicken "puposky" cooked at low boil from one to two hours, and in the pressure cooker about half an hour. Speed of cooking depends on the age of the hen, breed and diet. If possible, soak the ventricles for 2-4 hours in cold water. Then their preparation will be reduced to 40 minutes, and they taste will be more tender and soft.
Let chicken "papochka" a little cool in the broth in which they were preparing. Then remove them with a slotted spoon and use for soups, salads, appetizers, main dishes. Scroll them through a meat grinder and prepare the filling for pies and pancakes. Or serve chicken ventricles to the table, boiled with cream, mustard or cream sauce. On the side will offer pasta, buckwheat porridge, boiled rice or steamed vegetables.
Advice 2: How to cook chicken gizzards
Chicken
potroshki – a great alternative to the usual fillet or chicken legs . Of them can cook delicious stews, Chinese dishes, cooking soups, and doing the roast. You can buy a mix of different offal or choose one of their kind – for example,
chicken ventricles
.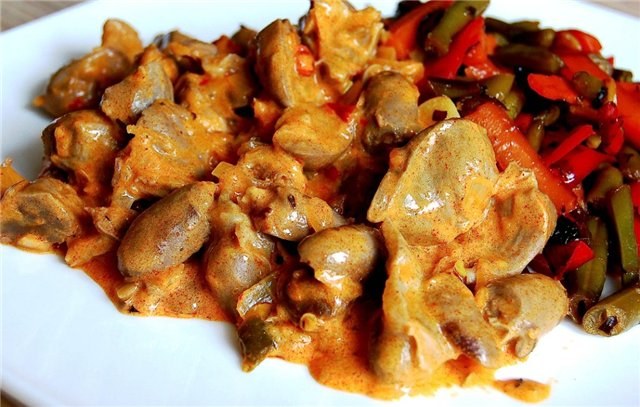 You will need
300 g of chicken stomachs;
4 bulbs;
2 tablespoons vegetable oil;
250 g tomatoes;
2 tablespoons short-grain milled rice;
2 egg yolks;
3 tablespoons of sour cream.
Rassolnik with giblets:
300 g of chicken stomachs;
4 pickled cucumbers;
1 carrot;
1 turnip;
3 tablespoons of rice;
1 onion;
a bunch of parsley;
parsley root;
a bunch of dill;
black pepper;
salt;
2 cloves of garlic;
Bay leaf;
tablespoon of butter.
Stomachs
stewed in cream:
300 g of chicken stomachs;
2 bulbs;
1 pod hot red pepper;
vegetable oil for frying;
salt;
freshly ground pepper;
half a Cup of cream;
fresh parsley.
Instruction
From chicken gizzards can be cooked a hearty and delicious soup. Rinse the giblets and clear away films. Put them in a saucepan, cover with cold water and put on the stove. Boil the gizzards until soft, then remove from broth and finely chop.
Chop the onion into thin rings, place in a pan with preheated vegetable oil and fry until Golden brown. To the pan add the chopped gizzards, stirring, sauté the mixture for even Browning. Pour the peeled and diced tomatoes. Cook the mixture over medium heat, stirring constantly.
Put the fried gizzards with vegetables in broth, boil. Add the rice, salt the soup and cook it until tender. Before serving fill the soup with sour cream, mixed with egg yolks. Spoon the mixture into the broth, stir and heat without bringing to a boil, otherwise the yolks will curdle.
Very tasty pickle made of chicken giblets. It can be prepared from a mixture of offal, but if you have only stomachs, go around them. Thoroughly wash the giblets, cut them into pieces and put in a pot with cold water. Cook for about an hour, put the broth, shredded carrot, turnip and parsley root and washed rice. Continue cooking, skimming off the foam as it is education.
With pickled cucumbers, slice off the skin, pour her a glass of hot water and boil on low heat for about 15 minutes. Remove the rind from the brine. Place the cucumber flesh, cut into small cubes, and cook all together for about 10 minutes.
Put in the broth, finely chopped onion, pepper and Bay leaf and simmer the soup until the rice is tender. Feed the brine, boil for about five minutes, put finely chopped parsley and dill. Before serving, season the soup with garlic, mashed with butter and salt.
As main dish you can prepare the gizzards, stewed in cream. Clean the offal from the films, rinse well and boil until soft. Chop the onion and finely chop the red pepper. Onions fry in a pan with preheated vegetable oil until transparent, put thereto a little pepper and extinguish all together.
Stomachs finely chop, put in the onion-pepper mixture and sauté, stirring constantly. Salt. Pour into the pan the cream, reduce the heat, stir the mixture and cover with a lid. Leave the giblets to simmer for about 10 minutes. Before serving, sprinkle the dish with freshly ground black pepper and finely chopped parsley. Serve with boiled wild rice.