You will need
egg – 2 PCs;
beef – 300 g;
pork – 300 g;
onions – 3 PCs;
meat broth;
water;
salt;
spices;
mushrooms;
sour cream;
greens.
Instruction
Sift the flour through a sieve and pour it on a cutting Board or the surface of the table slide. In the middle of the slides make a small recess and crack inside eggs. Then gradually add to eggs salted cool water. Knead steep elastic dough and roll it into a small loaf. Wrap the dough in a clean plastic bag and leave for half an hour in the fridge for proofing.
At this time, prepare the stuffing. Miss twice through a meat grinder beef, pork and onions. Add ground salt, black pepper and other spices to taste. Thoroughly mix the stuffing. Let it stand for 20 minutes.
Remove chilled dough and divide it into small equal parts. Roll each long strap and cut it into pieces the size of a walnut. Each piece roll out with a rolling pin into a thin pellet. On circles of dough, put 1 teaspoon of filling and form the ravioli.
Lower the dumplings one by one into the boiling broth and gently mix. Keep them from sticking to the bottom of the pan and not stick together among themselves. After the dumplings have surfaced, cook them for another 5-7 minutes. Then with a slotted spoon and place them in a deep dish and pour broth. Top the dish garnish with chopped parsley and dill.
If you want to treat family or guests an original dish of dumplings with broth, and cook it in clay pots. Boil the ravioli until soft and remove from pan. Place them in pots for about 12-15 pieces. Add to each serving with 3 tablespoons of roasted mushrooms or porcini mushrooms and pour hot meat broth. Cover the pots with lids and simmer in preheated oven for 15-20 minutes at 180 degrees. Before serving, put in pots of sour cream or butter. On top sprinkle the dish with chopped greens.
Advice 2: How to cook dumplings
For many people today the
dumplings
have become fast food, favorite food singles, students and busy Housewives. What could be easier - buy a bag of frozen semi-finished product in the store, cook and eat. But the old-fashioned way at the weekend to stick a whole family of wonderful dumplings. It is not difficult!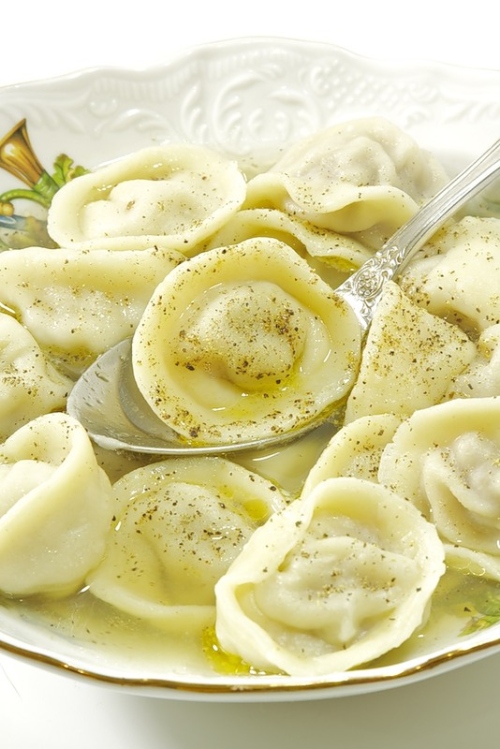 You will need
3 cups flour;
1 egg;
2/3 Cup water;
1/2 h spoon of salt.
For stuffing:
200 grams of meat (pork
beef);
bow;
salt;
pepper.
Instruction
Prepare the dough. To do this, sift the flour on the table slide, make a recess, pour into it warm water and crack the egg. Add salt. Knead tight dough, cover with a cloth and let it stand for half an hour. At this time, prepare the stuffing. Loop through a meat grinder pork, or beef. Even better - if the ground beef there are both types of meat get even juicier and tastier. You can also take the finished meat. Add chopped small onion and salt.
Now take a rolling test. There are 2 ways. First method: take part of dough, roll out into thin (0.5-1 mm) layer and cut with a glass or a special notch in the circles. Trim the dough again, roll in com, lightly knead and re-roll. The second way: separate parts of the dough and roll into a bundle. Then cut off small pieces and roll out with a rolling pin into thin circles.
In each slice put a piece of meat, equal to about half a teaspoon. Then fold each circle in half and semipelite region. Connect the corners together. By the way, the dumplings can also be suscipiat so. With this method of fixation, neither the dumplings nor the dumplings do not fall apart when cooking.
The way to shape the
dumplings
, you can not only manually. Perhaps in some families remained popular in the Soviet year of pelmennitsa. Pelmennica - round plastic or metal Board with holes. This adaptation significantly speeds up the cooking process. Roll the dough out into a thin layer, lightly sprinkle with flour and lay on a pelmennica. Spread the stuffing over the notch and then cover with the second pastry sheet, slightly floured. Gently press on the balls of meat under the dough with your fingers and roll out the dough to rock.
The dumplings
themselves have to fall out of pelmennitsa.
Can send the dumplings for a couple of hours in the freezer, but you can cook them at once. Boil the dumplings in boiling salted water. After surfacing, check for availability and remove them from the broth with a slotted spoon. Condiments for the dumplings are varied. Some prefer to add to this dish ketchup or mayonnaise. No less a favorite option is sour cream or butter. You can sprinkle them with black or red pepper. The birthplace of dumplings - in the Urals and in Siberia it is customary to serve dumplings with broth in which they were boiled, and dip each dumpling in a Cup with vinegar.