You will need
- unpainted wooden spoon;
- gouache, tempera, aniline dyes of different colors or oil paint;
water;
- brush No. 2-6;
- gelatin or carpenter's glue;
- tooth powder;
oil, alcohol or nitrocellulose lacquer.
Instruction
Wooden
spoons
are often carved out of basswood, birch, alder, aspen. These types of wood is easily painted with gouache, tempera. You can also use oil and aniline dye.
If the surface of the spoon has a rough, in front of painted sand product sand paper: first, with the larger pad, then the smaller ones.
If you want to achieve a perfectly smooth surface, Polish the spoon. Experts advise to do this with wood shavings or purchased at a pharmacy dry horsetail.
Before you choose the paint, determine the purpose of the product. If your spoon is purely decorative, will not come into contact with moisture, you can safely paint it with tempera or coloured gouache. These paints do not require priming.
If you decide to paint the spoon with oil paints, pre-Prime it in two or three divided doses. The simplest part primer: 1 part of dry gelatin or carpenter's glue, 5 parts of a dental powder. For a glass of water for measure, it is sufficient to take a teaspoon.
Select for a list of the desired paint. This can be a water-soluble light-fast aniline dye. Mix different colors in water, heated to 70-80oC. For 250 ml paint enough 1.5-2 grams of dye.
Choose to paint with a small brush (No. 2-6), preferably of the squirrel. Think carefully about figure painting (berries, leaves, abstract drawing, etc.). If necessary, apply light touches to the contours of the ornament on the surface.
Apply the paint to the surface of the spoon according to his artistic vision. A mandatory rule of the masters of wood painting: paint should be applied in one go!
Advice 2: How to paint gingerbread
Carrot cakes have been known since ancient times. Different Russian city was famous for sweet products and gave them their names: Tula, Suzdal, Vologda, Moscow gingerbread. Such delicacy can not only produce according to original recipes, and paint by hand. Try to bake their own cakes, then cover them with glaze, make graffiti on them or apply ornaments.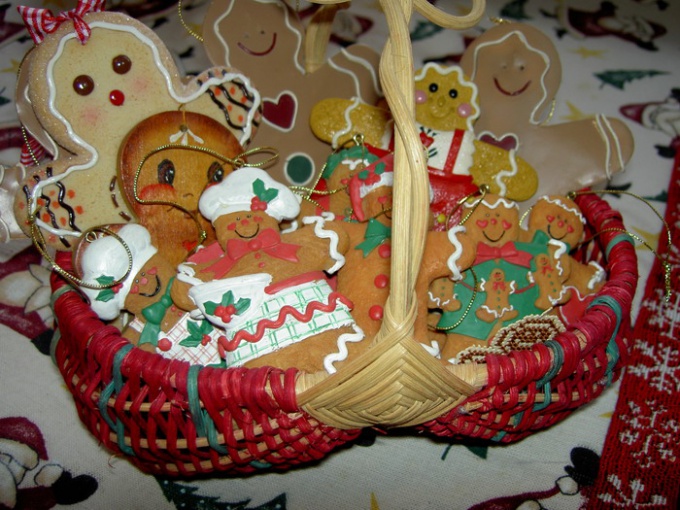 You will need
- a bowl;
- wooden spoon;
- tracing;
- cocoa;
- cranberry;
- orange;
- beet juice;
- food coloring.
Sugar glaze:
- powdered sugar – 1 Cup;
- liquid – 6 tbsp
Protein frosting:
- protein – 2 pieces;
- powdered sugar – 1 Cup;
- lemon juice – 1 tsp
Glaze with starch:
- protein – 1 piece;
- potato starch – 1 tsp;
- powdered sugar – 5 tbsp;
- lemon juice – 1 tsp
Instruction
Bake the gingerbread. While they are cooling, prepare the glaze on one of the recipes. The harvesting of carrots for further painting can be bought in companies specialized in cakes.
Sugar glaze
Grind sugar in a coffee grinder or use the finished icing sugar finely. Sift it into a bowl through a sieve, to avoid lumps.
Pour in the powder 3 tablespoons water and 3 tablespoons of other liquid. It can be a liqueur, dessert wine, lemon juice.
Mash sweet mass with a wooden spoon until smooth. You will have a smooth shiny glaze.
Protein frosting
Separate the whites and yolks of two eggs. Yolks put in a container with lid and store in the refrigerator. Use them for other dishes. Whites and place in a bowl.
Mash the whites with a spoon and gradually add the powdered sugar. Ready-made icing similar in consistency to a thick cream. Pour in the ground a couple of teaspoons of lemon juice and stir well.
Glaze with starch
In a bowl whisk together a protein with starch. Add the powdered sugar and carefully RUB it with a spoon so that the mixture has become smooth. Pour lemon juice evenly stir the glaze until smooth.
Divide prepared white frosting into several cups. They need as many as colors you plan to do.
Use for coloring or natural food dyes. Add food coloring as directed on the label. Natural dyes can be obtained from juice of fruits or vegetables. Bright Burgundy color will, when introduced into the glaze droplets of beet juice. Other red shades make with cranberry juice, cherries, cranberries. Orange in color white sweet mass will give orange juice or carrots. Adding cocoa powder will get brown.
Make a cone out of tracing paper. Fill it with icing needed for color drawing. Cut paper sharp nose. Through him, squeezing Cornett, squeeze a thin stream of icing on the gingerbread.
Leave the painted cakes to dry in a warm room, arranging them in a single layer on the tray.
Note
Aniline dyes leave persistent stains. Keep this in mind when working.
Useful advice
Dry the spoon after painting at least eight hours.

If you plan on varnishing the product, dry it at room temperature in the place of the room where no drafts and dust. The usual time for the first varnishing - 15-16 hours, the second - 24-25 hours.


Spoon, painted with gouache, it is desirable to cover with several layers of clear lacquer. The fit and varnish PF-231, and nitro lacquer SC-222 or SC-224, SC-225, and alcohol, MBMA. The varnish can be applied on a spoon with brush or swab. There is a way called the way of okunki (the product is dipped in a container of lacquer).