You will need
- citric and oxalic acid, water;
- lemon juice;
- potassium permanganate, 70% acetic acid, the hydrogen peroxide;
- baking soda, ammonia, water;
- boiled egg;
- cotton pads, a sponge or soft cloth
Instruction
Baby will appreciate, if the surface of his drawings you will hang the appropriate size and color of the frame, and visited your house guests will learn that the family grows a great artist. This is an excellent way out of the situation, if the child has decorated with drawings Wallpaper in the nursery, but to design a living room is not the best option.
Scour the Wallpaper with a pen is possible by using a mixture of 10 g lemon 10 g of oxalic acid dissolved in 100 ml of water. The product gently, not pushing, treat the stain from the handle. After a while "masterpiece" pale and disappear.
Effective against ink stains and lemon juice. They saturate a cotton pad and apply to the wall for 5-10 minutes.
Easy to cope with stains from pens on the Wallpaper solution obtained by mixing potassium permanganate and 70% acetic acid. Dip into it the usual brush for painting and apply over contaminated sites Wallpapers. Some time later, the traces of ink will disappear. Don't be alarmed if after using this method the Wallpaper will remain dark spots. They are easy to remove with hydrogen peroxide.
To remove stains from the handle on the Wallpaper prepare the medium consisting of 200 ml of water, 2 teaspoons of baking soda and 1 teaspoon of 10% strength ammonia. Gently treat the stain working from the edges to the middle.
Boil a regular chicken egg and refrigerate it. Cut the egg in half and attach one half to contaminated ink section of Wallpaper for a few minutes.
Advice 2: How do I clean Wallpaper
Stained Wallpaper can ruin not only the interior but also the mood of the owners of the apartment. Despite the fact that Wallpaper is usually treated carefully with them still occur various troubles. For example, a child could draw some masterpiece. Or guests behaved not quite adequately and accidentally splashed soup on a neat wall. Washable Wallpaper , you can try to scrub.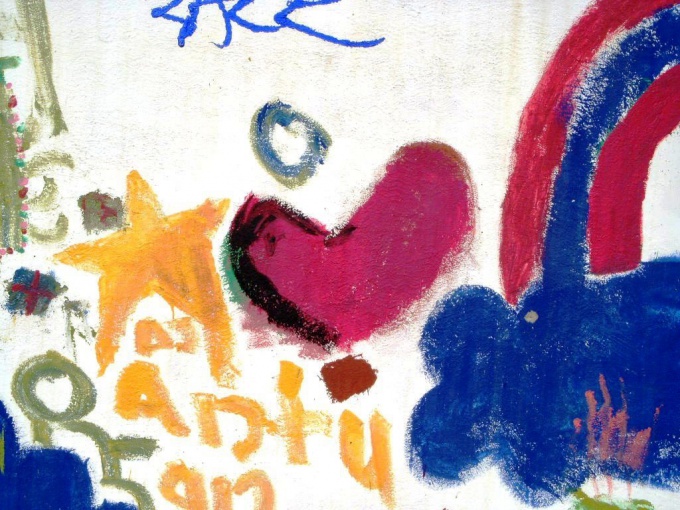 You will need
Melnikova sponge
Tool for cleaning toilets "of Course"
A tool for washing plates "Bee"
Eraser
Rubber sponge
Instruction
First of all, consider the size and nature of the spots. The least hassle with traces of pencils. They even paper Wallpaper rubbed with an eraser (though sometimes with a picture). Watercolor paint from washable Wallpaper can be washed off simply with water and a soft sponge. Most importantly in this case — not much rubbing, otherwise, you can achieve the opposite effect.
Another thing, if the child prefers a ballpoint pen or wax crayons. From such children's arts is usually very good helps Melnikova sponge. To buy such it is possible in many online shops, they began to appear in the shops of household goods. These sponges are sold in sets of two pieces. In addition to the aforementioned crayons and ballpoint pens, they scour and pastels. Wallpaper off fairly quickly, especially if they are not very grooved.
More effort will be required if your child misunderstood the expression "oil painting". Since it's likely not know what oil paint, you can understand this expression literally and to paint a picture butter or oil. Melnikova sponge in such a situation, it helps to scrub it will be very greasy stains. Can be applied with a soft sponge for washing plates "Bee" and then rinse with water. If it does not help, then try a gel for the toilet of Course". You need to apply it with a brush or rubber sponge, because the foam stick from him. Leave the detergent on the wall for about twenty minutes, and then rinse with water.
Note
Do not use for cleaning Wallpaper abrasive pastes. Grease stains, they will not be removed and the surface of the Wallpaper can damage.

"Of course" you need to wash gloves.
Is the advice useful?
WC means "of Course" can be replaced by any other, but domestic production and import of funds for such extreme use is not calculated.
Note
Before you start cleaning out a pen with Wallpaper, a particular tool, test it on an inconspicuous area of the canvas, which, for example, behind the sofa. If its color is changed, try another method.