Instruction
Now available are an extensive range of bottles for feeding babies. Buy children's tableware in pharmacies or specialized stores and give preference to products from well-known manufacturers.
Pay attention to the material from which made the bottle. Glass bottle environmentally friendly, it is easy to clean and to sterilize, it is perfect for newborns. But when the baby is a little older it is better to replace the bottle made of polypropylene. This material is an excellent alternative to glass. These bottles are also easy to use. The only drawback is a little unclear.
Very popular bottles of plastic. They are unbreakable, light and convenient. However, they need to be changed frequently, sometimes forget about mom. The problem is that after repeated heating and cooling in bottles made of plastic are formed small cracks, which can develop harmful bacteria.
Choosing the shape of bottle for feeding, think, are you going to wash. After all, the purity of children's dishes are very important for the baby's health. If the child himself is able to hold the bottle, then buy a model equipped with comfortable handles.
If your baby has digestive problems, get this bottle. They have a special design that prevents the ingestion of air during feeding.
Foods ideal physiological bottles. They are very soft and resemble the shape of the female breast. Due to this design these bottles do not spoil the skill of sucking and not interfere with future breast feeding.
Bottles differ in scope. Newborn buy the pot with a volume of 100 ml. For children from six months purchase a bottle with a volume of 200 ml to avoid health problems, change the bottle once or twice a month.
Advice 2: How to choose a bottle for feeding
Shortly after birth, the young mother will have to decide what kind of bottle she would use when feeding a newborn baby. Even if the mother is not necessary to feed the baby expressed breast milk or adapted milk mixture, the bottle will still need to depoit baby water.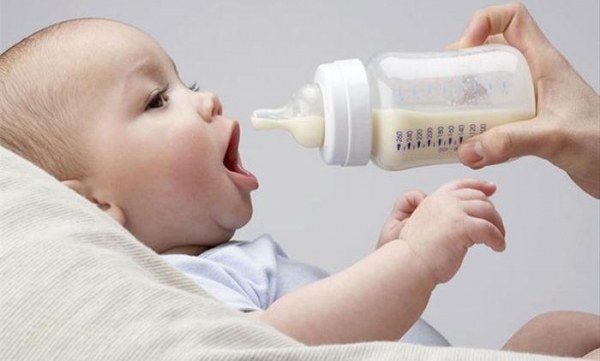 Manufacturers of feeding bottles
The choice of babies ' bottles is quite wide. In baby stores or pharmacies sell simple plastic, usually with a capacity up to 200ml. Their advantage is that they are relatively cheap, suitable for standard sterilizers. They are equipped with silicone or latex nipples that fit into any classic bottle. Often, however, the instructions that came with the bottle, the manufacturer warns that the shelf life of nipples provided her active service not more than a month.
There are also a lot more expensive and high-quality baby feeding bottles, very popular firms Medela bottles and Avent. They are sold separately and are attached to the breast pumps for the relevant company.
For a child who is on artificial feeding, you need to purchase at least one small and two large bottles.
The types of baby bottles
When buying a baby bottle for a baby you must consider several factors. First, the age of the child. Feeding a newborn baby, it is best to buy a small bottle with a capacity of 150 ml and for a baby over 6 months to buy a bigger size, with comfortable handles and a wide mouth. Maybe the grown up baby will love the toy-transformer. The advantage of this toy is that you can Unscrew the nipple and use it as a Cup-feeding Cup with a soft spout. It is convenient for the kid who already is learning to drink from a Cup and starting to wean from the bottle.
The quality of the bottle
Choosing baby bottle feeding, pay attention to the strength of the material from which it is made. Over time, it can deform from boiling, or for any other reason. If damage would be strong, cracks form, should not continue to use it. Early in the course of glass bottles, however, they are heavier plastic and can easily break.
Nipples for bottles
Another important factor that should be considered when choosing a baby bottle – the weight and health of the child. If the baby often spits up profusely, and its weight is approaching the upper limit of normal, it will approach the nipple with one or two small holes. Then the child will require more time and effort to suck his portion. The milk flow will decrease the feeling of satiety will come in time and the baby will stop overeating. In addition, the small opening ensures that the baby will not often choke while feeding.
A young child can be offered a pacifier for the bottle with a large hole through which he will eat watery porridge, or other thick foods.
Don't forget to buy special brushes and regularly wash baby bottles.
Please pay special attention to the material and shape of the nipples. Many moms opt for anticlimatic bottles. They have a special nipple shape prevents the swallowing of air during feeding, and as a result, the baby spits up less and rarely suffer from infant colic.
Although the bottles don't expire as such, the nipples must be periodically replaced by a new one.
If your kid has an allergic reaction to latex pacifier, immediately change it on silicone.
Some bottles equipped with nipples that simulate the breast. It is a good choice for moms looking to restore or prolong breastfeeding.