Instruction
Method # 1

Thoroughly rinse the rice (any) under running cold water. Put in a saucepan with a thick bottom and pour cereal with hot water in the ratio 2:3. Cover and put on medium heat. Cook for 12 minutes, then turn off the heat and leave the lid for another 12 minutes. In the process of cooking the cover in no case should not be opened, otherwise the rice does not get crumbly.
Method # 2

Rinse rice cereal (any except Jasmine) a few times in cold water, put in a saucepan and pour boiling water in the ratio 1:5. Without closing the lid, bring the mass to a boil, lower the heat slightly and leave for 15-20 minutes. Drain rice in a colander, rinse with boiling water and leave for 4 minutes. After that, you can use it for making salad.
Method # 3

In a saucepan with a thick bottom, pour 1 liter of water and bring to a boil. Then pour 1.5 cups of steamed rice, stir, cover and simmer for 25 minutes. In the process of cooking, open the lid and stir the rice is not necessary.
Method # 4

Thoroughly rinse the rice under cold running water, place in a saucepan and add water in the ratio 1:2. Leave for 20 minutes, then place on medium heat. As soon as the water boils, increase heat to high and cook for 5 minutes. Then cook for another 15 minutes on very low heat. Then leave the rump to get another 20 minutes.
Method # 5

Pre-washed in cold water, pour cereal in a saucepan and cover with cold water in a ratio of 1:1. This amount would be sufficient. If you take too much water, the rice may turn to mush. Put the saucepan on a medium heat. Once the water is boiling, make the minimum fire and simmer until the rice has absorbed all the liquid. Then turn off the stove and leave the cereal to stand for 5-10 minutes.
Advice 2: How to cook rice for crab salad
The popularity of crab salad among Russians is easily explained. Cooking this dish does not require a significant time and financial costs, in addition, this salad is an excellent choice for casual and for the gala dinner. One of the commonly used ingredients crab salad is the boiled ricethat can be cooked in two ways.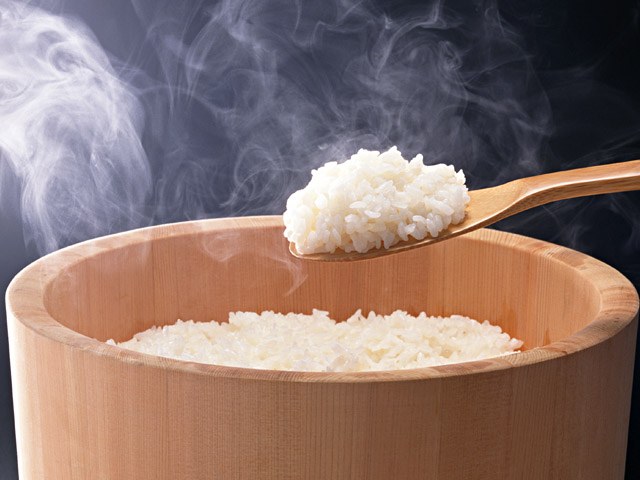 Instruction
To make rice for crab salad has not turned out sticky and viscous, do not buy short-grain varieties of ricethat produce a lot of starch when cooking. To prepare the salad need long grain ricebecause when cooked, it becomes crumbly and easily mixed with other ingredients. It is desirable to use parboiled rice, which is very friable.
The best way of cooking riceand is a way absorbed. Put in a pan 1 part rinsed riceand 2 parts water. Bring contents of saucepan to a boil over high heat. After boiling, cover pot and reduce heat to low. Cooking riceand this way depends on its type. For example, ordinary long grain rice fully absorb the water for 15 minutes, and steamed rice – for 20-25 minutes. In order not to lose steam while cooking riceand try not to lift the saucepan lid too often to check its readiness. When the rice is cooked, put it under the saucepan lid in a clean tea towel and allow the riceto stand for 20 minutes. This method of cooking the riceand allows you to save the maximum of the contained nutrients.
In the conditions of deficiency of time boiled rice can be prepared by way of boiling. To do this, put desired amount of ricein a pot and fill it with plenty of water. Bring contents of pan to the boil and simmer rice, without covering the pan with a lid. When the rice is soft, drain the water, throw the rice in a colander and rinse it with boiling water. To figure rapidly cooled, additionally rinse it with cold water.
Is the advice useful?
When cooking rice by the absorption method can not measure the amount of water with special containers. You can just check the fluid level. The thickness of the layer of water above the rice should be two fingers.