You will need
carrots - 2 PCs.;
zucchini - 2 PCs.;
tomato - 4 PCs.;
onion - 1 PC.;
bell pepper (sweet) - 1 PC.;
garlic - 4 cloves;
salt
pepper
parsley;
vegetable oil - 3 tbsp;
sour cream - 3 tbsp
Instruction
Tomatoes scald with boiling water and remove the skins. Cut the flesh into small pieces. All the rest of the vegetables peel and cut potatoes into slices, onion - half rings, carrots, zucchini and bell pepper cubes.
Cauldron grease on the bottom put the potatoes and cover them with the vegetables. Add the spices and salt to taste. Add the butter and sour cream. Mix gently, cover and put on a small fire. Simmer for 1 – 1.5 hours. The finished dish sprinkle with fresh herbs.
If you want to have more sauce, add in the vegetable stew in a little water.
Advice 2: How to cook vegetable stew with meat
Vegetable
stew
is a great dinner. Especially in summer when you want something less oily. It can be prepared by adding any
vegetables
to taste (potatoes, eggplant, cabbage, etc.). Here's one recipe. The recipe is for 6 servings.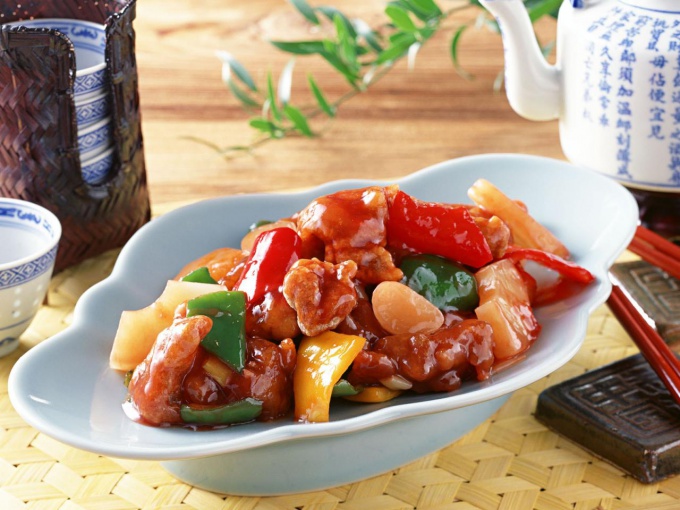 You will need
500 gr. meat. Best suited not fatty pork or beef

1 large or two small carrots,
Onion 1pc. (if a small
2 PCs.)
500 gr. potatoes
1 bell pepper,
¼ Small head cabbage,
3-4 peas of fragrant pepper
2 leaves of Laurel,
Ground black pepper,
Salt,
Chili peppers and greens.
Instruction
Cut the meat into slices of size 3*3 cm.
To take the brazier or pan, pour in a small amount of vegetable oil. Once the oil heats up, put it in the meat and fry over high heat so to get a Golden crust.
Chop the carrots into strips. The strips should be thin, but not very narrow, about 1cm. Add to the roasting pan to the meat and fry.
Then cut the potatoes in cubes of about 3-4 cm and put the meat and carrots. Fry on a medium heat.
Bulgarian pepper cut into strips, onion half rings and put them in a pan.
Add salt and pepper and then pour a glass of water.
Cabbage finely chop and spread the meat with vegetables. For cabbage to put the Bay leaf and peppercorn..
Then it all carefully mix. Simmer, stirring every ten minutes, on low heat for 50 minutes.
After 40 minutes, that is ten minutes before cooking, add the finely chopped dill and parsley. The stew should be served hot.
Also, the recipe for a vegetable stew , you can add eggplant or zucchini. But in this case it should be remembered that they are prepared very quickly and you need to add them at the end of cooking. Good luck in cooking and Bon appetit!
Is the advice useful?
When roasting, do not add a large amount of oil. Stew can turn out "not-summer" fat.