Instruction
Now the number of those categories of employees who are eligible for 100% payment according to the list of temporary disability will be greatly reduced. If, before January 1, 2011, we had rights of those who have worked continuously for 8 years, now the period required for this purpose seniority is 15 years. Payment of sick leave to employees whose experience is less than 8 years will be equal to 60% of average annual income from 8 to 15 years – 80%. In that case, if you have just started to work and worked less than six months, you will receive only the amount of the minimum wage, problem full calendar month.
Average income is calculated from wages received in the last 12 months. Rooting has become very profitable to those who are part of their salary gets "in envelope". In addition, under the new rules, the amount payable for sick leave, not to exceed 34500 rubles, so if your income is more, you will not get 100% compensation even if the length of your employment exceeds 15 years.
Under the old law, sick leave pay is paid at least two days, now you will need to probally at least three days to pay for your work days spent at home.
In the treatment in outpatient conditions, sick leave will give you from the day when you applied for medical assistance and close it the last day of the visit of the doctor, which will confirm that your health is restored. If you went to a health center of their organization and then came to the clinic from the health center, sick leave you receive from the date of the request to the health center.
To the sick list in "hindsight" you will succeed only by decision of a medical Commission in exceptional cases. If sick leave you have lost, you will be issued a duplicate with the signatures of the attending physician and Chairman of the medical Commission.
Advice 2: How to accrue sick leave and maternity leave
Every working future mother counts down the days to their maternity leave, because there is so much to do in anticipation of the baby. You need to prepare a room for the baby, buy baby clothes, diapers choose to purchase a crib, dresser, bottles, pacifiers, etc. and undoubtedly, very pregnant I wonder how much she will pay for the sick sheet on pregnancy and childbirth.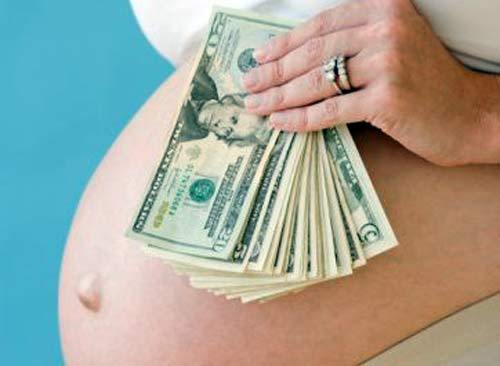 Instruction
To obtain benefits for pregnancy and childbirth , you should contact the antenatal clinic at 30 week of pregnancy and get a piece of temporary disability. Next you need to provide a statement and sick leave at your place of work.
If you have worked in last place more than 6 months and want to know what is the amount of benefits for pregnancy and childbirth, it is possible to contact in the accounting Department and to ask in advance about payment. Hospital period lasts for 140 calendar days in case of normal pregnancy (70 days before birth and 70 after), in a multiple pregnancy , the period increases to 194 days (84 days before the birth and 110 after). If is detected at birth multiple pregnancy, the hospital issued a mother additional sheet of disability by 40 calendar days.
Leave for pregnancy and childbirth is based on the average earnings of the employee, but may not exceed the limit. That is, if you get a higher salary 35 000 rubles, or more than 34 583 roubles in a month (the amount of sick leave for pregnancy and childbirth in 2010), you will not be able to.
If you get paid less than the maximum limit, leave for pregnancy and childbirth is calculated from average earnings for the 12 months, the calculation takes into account the amount of premiums, vacation and sick leave. So it was in 2010. But all pregnant women need to take into consideration that since 2011, entered into force a new law whereby it is considered a benefit in new ways. That is, maternity leave will be calculated as the average salary of the employee divided by 730 days (number of days in 2 years). From 1 January 2011 to 31 December 2012 inclusive the pregnant woman can choose what she will accrue sick leave. About your desire it is necessary to inform the accounting Department and write a statement.