You will need
Frying cutlets in the pan.

the meatballs (frozen or chilled) (6 pieces)
butter or vegetable oil (1 tbsp)
frying pan with a thick bottom
Roasted meatballs in a tomato sauce.
the meatballs (frozen or chilled) (6 pieces)
butter or vegetable oil (1 tbsp)
tomato paste (2 tbsp.)
broth or water (1 Cup)
salt
pepper to taste
garlic (3 cloves)
the pot
chesnokodavilke
Meatballs in sour cream sauce
the meatballs (frozen or chilled) (6 pieces)
butter or vegetable oil (2 tbsp.)
pan
deep small baking tray
flour (1 tbsp)
broth (1 Cup)
sour cream (1/2 Cup)
onions (1 head)
salt
pepper to taste
Instruction
Frying
cutlets in the pan
.
Heat a pan with a thick bottom on high heat. Melt in it a piece of butter or pour the oil. Taking the pan by the handle, rotate it, spreading the hot oil over the entire surface. Put her frozen patties. The meatballs should not touch each other.
Quickly sauté cutlets on each side until Golden brown, to reduce the loss of meat juice. Make a slow fire and cover pan with a lid. Bring precooked until tender. Pierce cake with a fork, if you highlight transparent liquid, cutlets are ready. The fried chicken is to cut a smooth grey, with no pink patches.
Roasted meatballs in a tomato sauce.

In a hot pan with oil put the semi-finished products. Bring them to brown on each side. Make the sauce in a bowl. Mix tomato paste, broth or water, pushed through a press garlic. Season with salt and pepper. Pour this sauce meatballs in the pan, cover, and simmer for 15 minutes.
Meatballs in a cream sauce.

Sauté cutlets in oil in a well heated pan until crispy. Place patties on a baking sheet. Make sour cream sauce. Fry flour in 1 tablespoon oil until yellowish. Pour in the broth, put the sour cream and boil. In another pan brown the chopped onion. Mix the onions with the sauce and pour over meatballs. Put in the oven for 20 minutes.
Advice 2: How to fry the meatballs
To cook the patties, it is necessary not only to pick up good ingredients for stuffing, but also the right to fry. Otherwise, the dish may burn on the outside but stay raw on the inside.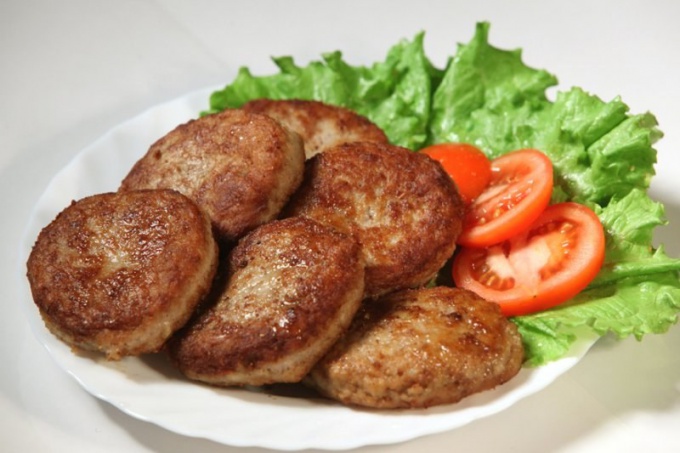 How to make beef patties?
Ingredients:
- meat (beef or pork) - 1 kg;
- milk - 1 Cup;
- eggs - 2 pieces;
- white bread - 200 grams;
- onions (bulb) - 2 pieces;
- soda - 1 teaspoon;
- pepper, salt - to taste.
Meat should twice to scroll through a meat grinder, after adding the garlic. To the resulting minced meat need to pour the mixture of milk and bread. Future chops, you must add the finely chopped onion. Then the meat should be sprinkled with baking soda, pepper and salt. Then the meat must be thoroughly mixed. The longer you do it, the better the dish. From the resulting mass needed to form patties.
Before you take up the meat, wet them with cold water. So the meat will not stick to your palms.
How to make patties of minced meat is ready?
Ingredients:
- minced meat - 1 kg;
- eggs - 2 pieces;
- white bread - 200 grams;
milk - 0.5 cups;
- onions (bulb) - 1 piece;
- pepper, salt - to taste.
Burgers can be made from ready-made stuffing, store-bought. But this dish will be much tastier if you add a meat of some ingredients.
Onions should finely chop and mix it with ground beef. The resulting mass you need to add the pulp is white bread soaked in milk. After that, the meat should be pepper and salt and mix well. Then it can mold the patties.
Before you put the meat in the pan kom, it needs to recapture that in a lot got oxygen. For this small amount of meat several times to throw with one hand to the other.
If this dish will be fried in breadcrumbs or flour before heat treatment it is better to leave in the fridge for 10 minutes. Otherwise, breading, soaked fat, will begin to crumble.
The raw patties should be spread on a hot frying pan and fry on a medium heat. Then mince a couple of seconds, is covered with a crust, which will not allow it to fall apart. To cook the dish better in melted fat, not oil. So the meat will be tender and juicy.
It is difficult to say exactly how much time is required for preparation of cutlets. It depends on the level of the heating plates and pans. Better not to leave the meat unattended. Every 5 minutes you need to check the readiness of dishes. If the lower part of the meat coma crusty, it is necessary to turn. When the cutlets are cooked through on both sides, reduce heat, and simmer the dish for about 10 minutes, adding a pan with a little water.
Kom meat may appear well done, but stay raw on the inside. To understand whether chicken is prepared, it should be cut. Beef should be gray. If the meat is pink or red, so it remains moist.
Useful advice
A side dish to grilled burgers can serve as potatoes, cereal, pasta or vegetable salad.