You will need
4-5 cloves of garlic
salt
ground black pepper
vegetable oil for frying
Instruction
Cut black bread into cubes.
Fry the breadcrumbs with the boiling oil for 3-4 minutes.
Spread the croutons on a paper towel to rid of excess oil.
RUB each crouton with the garlic.
Sprinkle with salt and pepper.
Croutons served with sauces. Can be used in salads.
Advice 2: How to make croutons with garlic
Delicious
crackers
with garlic is not difficult to prepare at home.
Croutons
can be made as from rye and wheat bread. Ways of making crackers several. To prepare this snack in the oven, or outdoors on the stove, then have to fry in the pan. Flavor your croutons will get if you will use olive oil. Garlic croutons, cooked in a special process, made from rye bread, called "topinky" and are the perfect complement to beer.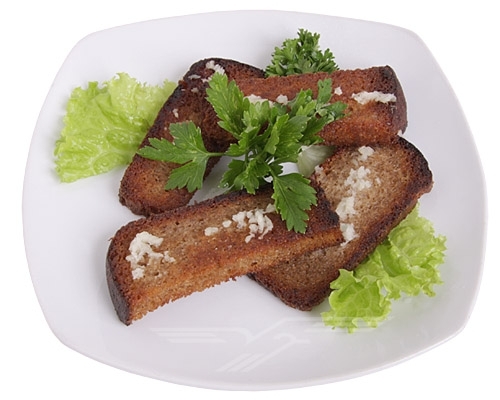 You will need
½ Tsp salt
3 tbsp olive oil
4-5 cloves of garlic
Instruction
The first method.

Garlic is clean and skip through the press.
Pour olive oil into a large bowl.
Add the oil, garlic and salt, whisk with a whisk or just a fork.
Put the mixture to infuse for 15-20 minutes.
Cut the bread cubes the size of about half an inch.
Release the crackers in a bowl with olive oil and quickly toss so that the oil gets evenly distributed.
Lay out crackers on a baking sheet and toast them in the oven at 100 degrees for 2-2.5 hours.
Periodically remove the pan and stir the croutons.
The second method. This method is used for preparing "topinky".

Bread cut into wedges 6 inches in length, 2 cm width and 1.5 cm in height.
Fry the cubes in oil in a hot pan.
Roasted Topinka RUB on all sides with a clove of garlic.
Sprinkle crackers with salt.
The third way.

Garlic is clean and skip through the press.
Add the garlic to the oil, stir and let stand while preparing the croutons.
Bread cut into cubes half a centimeter.
Place on a baking sheet and toast them in the oven at a temperature of 160-170 degrees for 30-40 minutes.
Crackers need to stir constantly, to not burnt.
Heat the oil in a frying pan and pour there hot crackers.
Stir quickly so that the oil is absorbed evenly.
Warm the croutons for another 3-5 minutes on low heat. Salt.
To remove excess oil place the croutons on a paper towel. .
Is the advice useful?
The bread did not crumble when cutting, take a sharp knife, and bread beforehand, you can hold 1-1. 5 hours in the refrigerator.