You will need
pan
- cones
- water
grass
- skimmer
Instruction
The kernel of cones ripen long before the "armor" will become hard and dry. To dry pine cones, try to boil. Enter the required number of cones and look for a roomy saucepan, but only that after cooking you will not be sorry to leave. The fact is that due to the high temperatures emitted resin will inevitably deposited on the walls, and to wash them is almost impossible.
Put the bumps on the bottom of the tank, pour them so that they are completely under water. Another subtlety to keep the bumps pop up under the water, put on top of a thick layer of grass. If you are going to save the broth for use in cosmetic or medicinal purposes, put the grass that needs to be part of a decoction. In addition, a fairly thick layer of grass will not allow the resin to be allocated again to settle on the cones.
After boiling, leave the broth simmering on low heat. To remove it from the stove can be when feel specific resinous smell (but no longer than 45 minutes). On average, to pine cones opened up, it will be enough 20-30 minutes. By the way, cooking them is appropriate alone, since not all family members will be pleasant exuded a heavy scent. Even better, for this procedure, you select a location under the open sky.
Remove the pan from the heat, fish out with a slotted spoon grass. Then, remove from boiling water and place cones or spread out the cloth such as an old towel or on a surface that will allow water to drain. And when cones are cooled, you can easily shuck them by hand, as when cooked they become hard and no resin.
Advice 2: How to make pine jam
Jam from pine cones - unusual, but very healthy treat. Pine jam can have a positive effect in cough, colds and some other diseases. It has an amazing taste and rich aroma.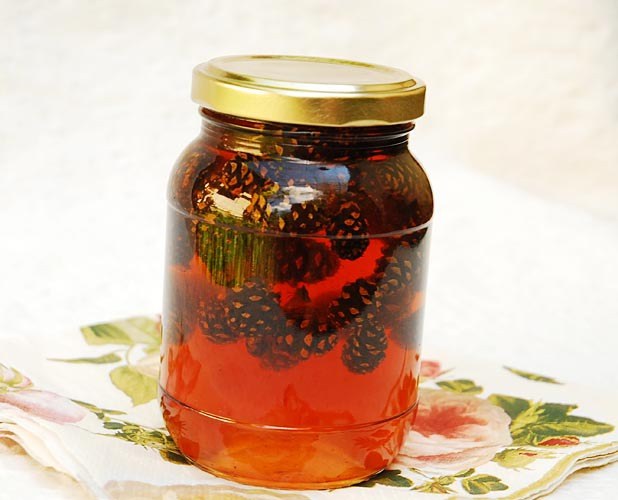 You will need
1 kilo pine cones;
- 2 liters of water;
- 5 pounds of sugar.
Instruction
In order to prepare this unusual jam, take pine cones and rinse them thoroughly under cold running water. After washing remember to dry the cones, this would place them on a kitchen paper towel.
Next, you'll need a large enamel pot. In this pan put the pine cones, cover them with cold water so that it covers the bumps half an inch. Leave them to soak in water for a day.
After a time drain the water and fill the cones again. Water also needs to cover them half an inch. Enamel pot, put it on a slow fire and boil the buds for twenty minutes to ensure that they are fully softened.
Start cooking the syrup. Take the sugar of the following calculation: 400 milliliters of water you need one kilo of sugar. After the buds are fully softened, drain them from the water and immerse them cook in the sugar syrup for twenty-five minutes. Boil the pine cones in the syrup on medium heat.
Then reduce the heat and cook jam from pine cones until tender. Ready hot jam pour into clean, dry banks and close the lids.
Useful jam from pine cones ready. This treat is very useful to use in autumn and winter season. It can be given to children along with milk or hot tea. It will cope with the coughs and colds, because in the process of making the cones pass the syrup for its healing qualities.
Note
Jam from pine cones is also useful in pulmonary tuberculosis, influenza, sore throat. If you eat a couple of tablespoons of this jam before going to sleep, then in the morning you will see a positive result a cushioning effect.
If you clog jam the plastic caps, the need to keep it definitely in the cold.
Jam is too thick you can dilute with boiled water.
Pregnant women and young children prone to allergies should eat jam from cones in small portions.
Is the advice useful?
In order to properly prepare jam from pine cones, they need time to gather in the period when cones are still green, and carefully cut them from the tree.
Like jam, you can brew not only from pine cones, but also of pine-cones, and cones of spruce.
Properly brewed pine jam should be a dark amber color and have a wonderful taste and aroma.
Note
A decoction from pine cones helps with diseases of the skin, joints and osteochondrosis. Before applying this folk remedy, please consult your physician.