Instruction
Discard stereotypes. Restaurant meals new combination of unusual components and an unusual flavor accents. For example, the chef recommended to add to fish forcemeat a little honey, and soup – sugar. Bolder experiment. Try to add it to the soup with the cilantro instead of parsley, and sour cream sauce to throw a pinch of curry – you will get a brand new taste nuances.
One of the important differences of restaurant dishes from home – extensive use of all kinds of sauces and spices. Explore the flavors. Do not use the ready mix bags and bottles. Prepare pasta sauces independently, vary the sets of spices for steaks, soup or pilaf.
Use professional recipes. You can find them in magazines for restaurateurs and professional websites. If you do not understand the terminology, read books, which are learning the future professionals of the catering. There you can learn a lot about the principles of the restaurant kitchen.
If you like a dish in a restaurant or cafe, carefully read the list of ingredients on the menu. In good restaurants it is customary to chat with the chef. You can invite him to the gym, to praise successful dish and ask for the recipe. Usually flattered the boss doesn't refuse the comfort. However, note that a couple of secret ingredients he can hide.
Seriously wishing to learn the restaurant kitchen and to cook at home dishes of high level, it is necessary to enroll for home cooks. These classes can be short term - in the form of several workshops, or long enough. Choose a course where you will learn not only to make a dish from pre-prepared ingredients, but also to correctly prepare the products.
Learn basic principles of restaurant serving. Do not post landscapes on plates and not decorate the dish with roses of the sausage and the lilies archery. Carving – a separate art form, which is widely used for buffets and banquets, however, the serving portions hardly occurs. Instead of Apple swans and baskets adorn a mound of lettuce with a couple of olives, and the mashed potatoes and vegetable chips and feathers chives Luka. Decorate the dish with drops of sauce or oil, herbs or pepper seeds.
Use the products that I buy chef restaurants. Today in large cities there are specialized stores where you can buy everything you need – from new Zealand lamb to exotic fruits. Many of the chefs personally choose the necessary products in the local markets. Follow their example. The quality of the raw materials depends on the taste of the final dish.
Advice 2: How to become a chef
Marketers claim that the popularity of any restaurant rests on "three pillars": good service, atmosphere and skill of the chef. Sometimes this skill is able to make the restaurant a visit, even when the remaining components of success is not perfect, but, of course, the chef must be very hard. It is clear that such professionals are always in demand and their labor is estimated by owners of restaurants is very high.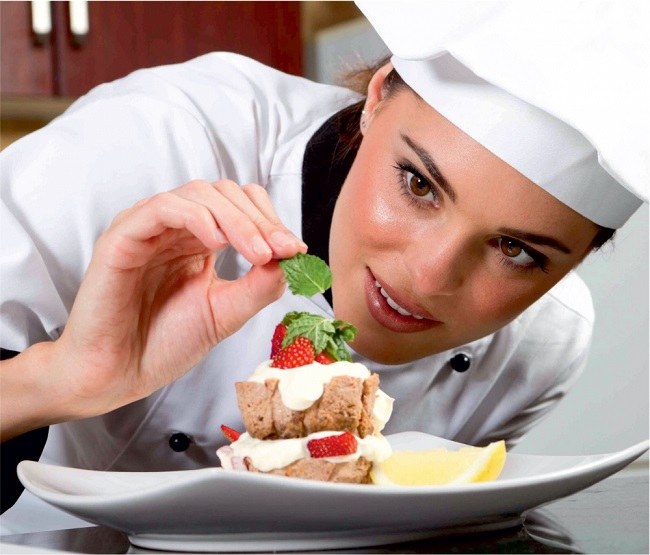 The features of the profession of chef

Many people think that any special education to the chef is not required – just enough to be able to cook and love this occupation as millions of Housewives pleasing a tasty meal at home. But this view is mistaken. First, between the preparation of dinner for a few people, and those, which are several hundred, there's a big difference, including technological. Second, the range of dishes that need to be able to cook the chef, in the tens if not hundreds of times wider than any of the home menu. Thirdly, the chef of the highest class practically does not use ready-made recipes, and should be able to improvise, but to create new dishes were delicious. And for that you need to know many secrets of thermal and mechanical processing of products, their compatibility and required ratios. And fourth, most importantly, without which, even knowing all these details people will never be able to become a good chef, it is an innate talent for cooking.

Where to special education

Such a profession exists in the list of specialties, graduates of some universities, schools or colleges. You can also obtain the diploma of chefs, spending on such training only a few months or even weeks. These schools teach the theory of cooking business: the rules of choice, storage and processing of products, the recipe of the most popular dishes principles of preparing food. But, unfortunately, full of practical skills the graduates of such institutions in the process of learning do not receive, they are more suitable for managerial activities.

But, nevertheless, the theoretical knowledge will be necessary and required if, after the end of such an institution you will take care of the necessary practice. Some cafes and restaurants offer food to the graduates of institutes and colleges, free training in the kitchen, and you can even get a scholarship. But among these restaurants are mostly restaurants and fast food outlets or network.

In the kitchen of a good restaurant or café, you can get even without "crusts" on special education, but in this case practice will give you more difficult, and will have to start with the dirty work – washing dishes and washing vegetables. However, employers are not willing to take a staff of people without education. In this case it is important to get good professional guidance and to receive from him a learned skill. And to consolidate the knowledge and skills you can always pay for courses and master classes held by famous chefs, including abroad.