Usually strawberry seedlings are planted in the garden in late summer or early September to give the plant an opportunity to take root and stand the test of winter cold. If this deadline you missed, it is recommended to delay planting until mid-April. Early strawberry varieties experienced gardeners planted under the film, because it allows them to get the first crop of berries in may.


To know when ripe early strawberries, you should be familiar with the characteristics of the variety. This herbaceous plant can bear fruit only once during the warm season or have sposobnosti repeatedly to blossom and bear new fruit within one vegetation period (everbearing strawberry).


Among the first group can be identified such early varieties as "Olivia", "Cleary", "Czech Beauty", "dawn", "Kama". With proper care for seedlings they can begin to bear fruit already in 15-22 may. During the first summer month you can collect quite a bountiful harvest of strawberries. The period of activity in cultivars with single fruiting is very short, however, in favourable climatic conditions they are able to go through another development cycle and bring new and abundant harvest.


Berries everbearing varieties if they are grown under plastic flooring, also begin to ripen early – late spring. Fruiting strawberries will come in waves: in June you will get the first harvest; in early July the bushes will be a second batch of berries in mid-August will begin the third stage of fruiting herbaceous plants.


Popular everbearing varieties of strawberries – "Queen Elizabeth 2", "Brighton and Hove", "Lyubava", "the Rhine waltz", "Tribute", "Uralochka". If there is no frost, they can give you the fresh berries even in September. Autumn winter-hardy plants are covered, and overwintered leaves in the spring immediately accepted to work for the harvest."


Some varieties remain dormant overwintering buds. Once prigreet sun of may, the strawberry comes early flowering and you get the long-awaited sweet berries.
Advice 2: When ripen strawberries
The time of ripening of this delicious, juicy and fragrant berries that are grown in backyards and farmers ' fields, for both adults and children. Strawberry varieties differ in ripening and length of fruiting. Conventional strawberries are grown once per season and everbearing varieties produce fruit several times from late spring to mid-autumn. To know the period when the strawberry ripens, you need to know in what climate zone it is growing.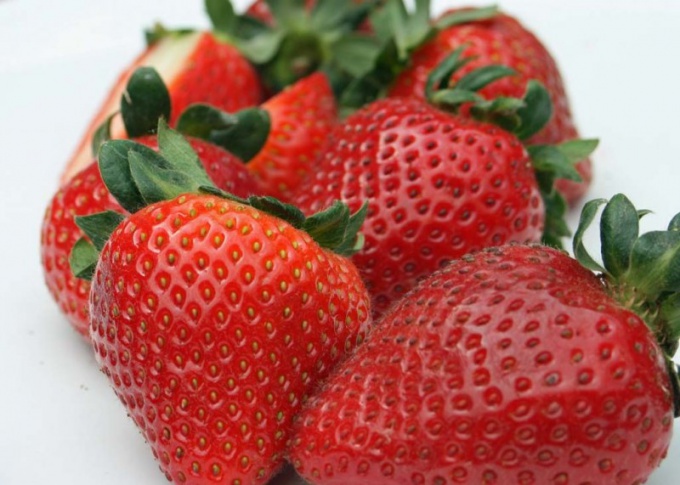 Already not unusual in many areas of steel remontant varieties that produce fruit two to three times during the summer. They bloom, too, from early may to October, and fruiting occurs almost continuously, but in waves. The first notable harvest in early June, in mid-July appears on branches with berries, and in the middle of August is another harvest. If the weather conditions this year were favorable, there is a probability of receiving and the fourth harvest, which falls in the middle of October.
Strawberries
grown under greenhouse conditions, of course, begins to bear fruit sooner than planted in the open ground. For greenhouse varieties are "Burned" and "Wave". They are grown in enclosed greenhouses or winter heated rooms. These varieties are characterized by high yields and a dense structure of the pulp of the berries, thereby they well endure transportation over long distances. The ripening of strawberries these varieties in the first half of June. Fruiting can last for almost a month – until mid-July.
Varieties grown in the open ground – "Desna", "the little Mermaid", "Pocahontas", "Mascot", "festival", "Cambridge" in the mid-latitudes begin to bear fruit by the end of June. But it has its own peculiarities. Early varieties: "Olivia", "clearys" appears in the beds the first week you can start to collect "Elsanta", "Festival" and "Capital", a week – "Prezent", "Gigantella", "Arosa", the latter will ripen "Pegasus", "Camera", "Tarusa".
For the term maturity is also influenced by the selection of a site for planting. It needs to be Sunny, not flooded and well-fertilized. If you plant the varieties of different ripening its crop you can collect in a month and a half.