You will need
Rabbit - 250 g
Rice – 1 tbsp
Onion – 1 piece
Celery root – 1 piece
Carrots – 1 piece
Tomato – 1 piece
Garlic – 2-3 cloves
Vegetable oil – 3 tbsp
Oil slivochnoe 30 g
Water – 0.5 l
Vinegar – ½ tsp
Salt to taste
Instruction
Slice the rabbit fillets into arbitrary small pieces, cover with water with vinegar and leave for 2-3 hours to marinate. Then fry in mixture of butter and sunflower oil until Golden brown. Add a little water and simmer until fully cooked.
Onions finely chop, carrots to RUB on a large grater or cut into strips, celery finely chop. Vegetables fry in a pan in vegetable oil.
Tomato pour over boiling water, remove the skin and finely chop. Add to sauteed vegetables, and a few minutes to extinguish under a cover.
The rice rinse, pour it to the meat. Expanding the rice, put the garlic on top, add the prepared vegetables. Simmer, covered on low heat until tender. Ready pilaf loosen.
Advice 2: How to cook pilaf with meat
Of course, the
pilaf
, which is prepared at home is significantly different from that which is prepared on an open fire in a cauldron and only lamb. But despite this, home-made
risotto
from the meat with a gorgeous Golden color turns out very tasty.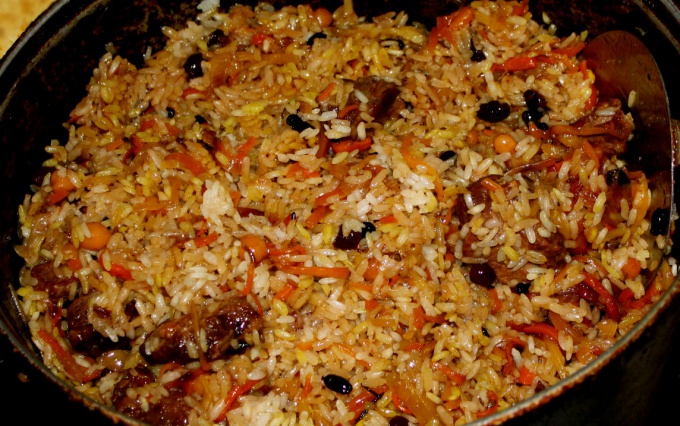 You will need
carrot (2 pieces);
onions (4 pieces);
rice (2 cups);
tomato paste (5 tablespoons);
garlic
salt
spices – to taste.
Instruction
Rinse meat in cold water, cut them into cubes, fry in vegetable oil until Golden brown and place in the cauldron.
Carrots carefully wash, RUB on a coarse grater, fry in vegetable oil and place in a large kettle on top of the meat.
Onion peel, cut into cubes, fry in vegetable oil and on top of the carrots put in the cauldron.
Carefully go through the rice, rinse several times in water and pour into the cauldron.
On top of the rice, pour the tomato paste, salt, spices and cover with water so that it completely covers the contents.
The cauldron cover and put on slow fire.
Remove from heat and allow to stand for about 30 minutes.
Serve the pilaf to the table hot.
Is the advice useful?
Before cooking pilaf rice can also be fried in vegetable oil. Fat, which will absorb the grains, will not allow it to clump, and the dish is to crumble.
Note
Add water to the stew before add rice if it is too little. The meat should be completely closed with the broth.
Useful advice
Celery root can be replaced by parsnip or carrot.