Instruction
If you applied a toning shampoo in accordance with the enclosed instructions and strictly follow all the recommendations, the shade will gradually fade and almost completely washed away for 7-10 times. Wash your hair daily, then a week later, the shade that does not suit you, will disappear.
In that case, if the toning shampoo was applied on bleached hair or on fresh Perm, can be unpredictable and quite long-lasting colour effect. It happens if you used a different color shampoos, before completely washed away the previous color. In this case, the solution may be a repaint. Do it from professional masters, who will pick up the right shade and correct hair color.
There are special professional tools, with which you can wash off even persistent hair dye. They are produced by cosmetic companies and companies in the hair care and represent usually shampoo and deep cleaning emulsion for removing paint from hair.
To make the tone less bright and intense, you can put on the hair mask. Its purpose is different, but the effect it also will allow you to obtain.
Use folk remedies – oil or kefir masks. Kefir apply to hair, put a rubber or plastic cap and wrap head with a towel. Leave the mask on hair for 1.5 – 2 hours, then rinse with warm water.
The pharmacy can buy black soap "Grandmother Agafya", wash the head several times, the paint should go. This soap is natural and does not contain substances capable of causing great harm to hair. But after all the recovery procedures still do a couple times a hydrating mask for your hair to come to life after all these stress.
Advice 2: How to apply shampoo
To give dull hair Shine, add a bit of bright, vivid shades without damaging the hair structure are functions of coloring shampoos, are very popular among women of all ages. Gently enveloping the hair, a toning shampoo improves their color and appearance. Importantly – correctly and uniformly apply it.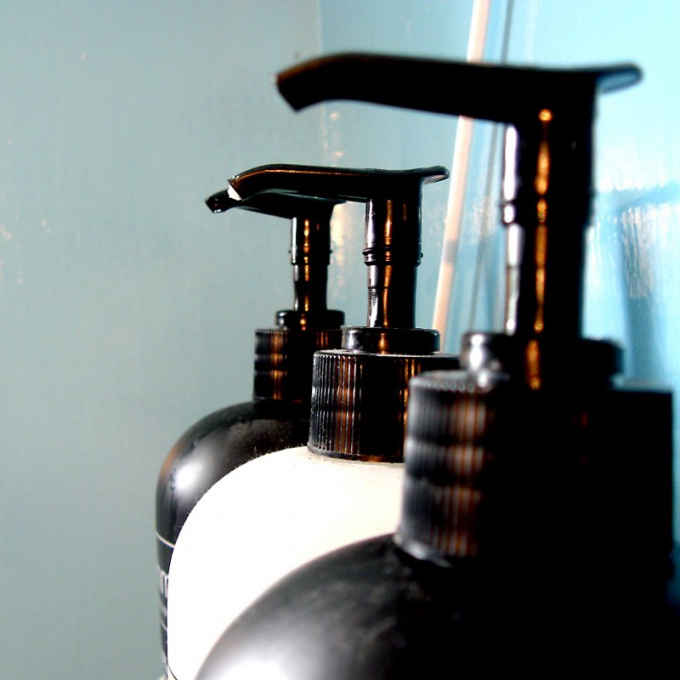 Instruction
First of all, do not confuse the shampoo with the balm. Environment shampoo, alkaline, and balm – acid. The shampoo not only color, but also hair shampoos, and therefore, to maintain the color you can use it every day, but the main purpose of the balm is a treat, adding a little hair color.
Shampoo should be applied always after the main wash to clean damp hair (not wet, water must not drain them). Better if before applying a toning shampoo you dry them lightly with a towel or Hairdryer. This will ensure a high-quality coloring.
Note the label on the packaging of shampoo. There is a very concentrated formulations of shampoos, and many experts advise in this case to separate them. Especially if you have blonde hair or you just want to improve their color, but not change it radically. More caution should be treated with toning shampoos for blondes and people with damaged hair (chemistry, frequent use of Hairdryer and styling products, etc.), because coloring hair in a single color, you may get a very different (for example, instead of chocolate bright red). To avoid this, it would be better to apply to the hair, dilute the shampoo: 2-3 teaspoons of shampoo per litre of warm water. Also the concentrated composition can be diluted with regular shampoo in the ratio 50: 50, apply to hair, lather and rinse with warm water.
Shampoo is applied directly onto the hair and spread throughout their length by means of foaming. Do not overdo it, rubbing it into the hair roots as you dare to stain the scalp that will not look aesthetically pleasing. Use a comb, preferably a regular comb, not a brush to distribute evenly on all length of hair. Can I hold a part time on the hair, so the color will be more bright and saturated.
If after using a toning shampoo color did not suit you, no need to worry, because it will wash off after a few days. Then you can try another tool better suited to your hair.