You will need
250 g of water;
1.5 kg of sugar;
1 tsp citric acid.
Instruction
Carefully wash the berries. It is better to soak in cold water for 15-20 minutes and then rinse with large quantities of running water.
Remove all pits from cherries with the help of costoclavicular. There are mechanical and electrical devices for removing pits from the fruit. If you don't have such a device, use ordinary pin or blunt end of a metal pen. But manual removing of the seed will take longer and will result in the loss of juice.
Sprinkle berries and sugar in an enamel pot and leave at least 3-4 hours. You can pour the cooled cherry syrup made from water and sugar.
Pour candied cherries in a bowl or saucepan and place on low heat. Cook for 15 minutes, remove from the heat 2-3 times to infusion of jam. Don't forget to remove the formed foam. With a large boiling pan and bring to full readiness.
5 minutes before end of cooking add citric acid. Berries finally satiate the sugar syrup, soak the jam at room temperature for another 6-8 hours after boiling, before you start repasovane banks.
After the allotted time, pour the cooled jam into hot sterilized jars, tightly close boiled lids. Flip it upside down.
Cherry jam can be poured into jars and hot. This will separate the fruit from the jam through a colander, pour them into jars, boil down syrup. Then pour cherry syrup fruit in jars. Jam can be sealed.
Advice 2: How to cook cherry jam seedless
Properly brewed cherry jam is not only tasty, but also very useful. Jam
from cherries
without pits can be used as a filling for pies, pancakes and dumplings. Cherry syrup can be used for impregnation of cakes in the cake. Cook cherry jam seedless can be different recipes.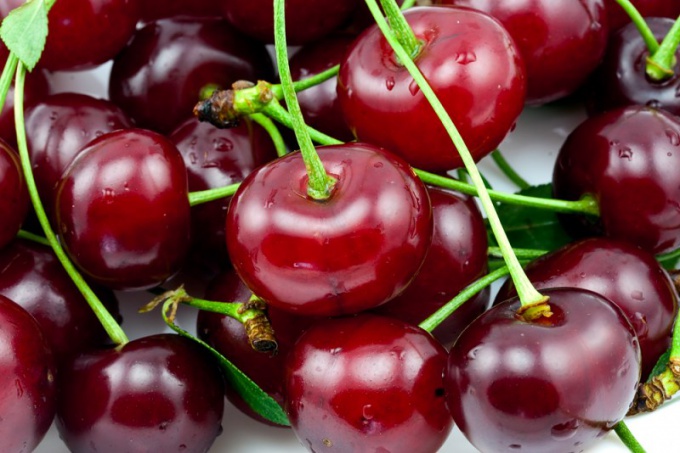 To prepare jam take separatelya fresh berries. Sort through them, removing all tainted cherry and debris. Thoroughly rinse the berries in plenty of water. With a knife or a special device remove bone.

For every pound of pitted cherries take 1.2 kg of sugar. With these proportions when cooking will turn out a sufficient amount of syrup in which the cherries will retain its shape and the jam will be persistent in the storage.

Jam from cherries, pitted you and honey. Take it in the same proportions as sugar. You can take sugar and honey in equal amounts.

Cook syrup. To do this in a bowl for cooking jam put the sugar and pour 0.75 cups of water. All mix well, bring to a boil and, stirring, wait until the sugar is dissolved.

Put the cherries in the syrup. Gently shake the dishes to make the berries submerged in the syrup completely. Cook jam on low heat, stirring occasionally and skimming.

The jam will be ready when cooled a drop of syrup, poured on saucer, does not spread and holds its shape. In the finished jam cherries evenly distributed in syrup.

Cool jam, stir it and place it in a clean, dry glass jars. Close kapron lids and store in a cool place.

You can cook cherry jam seedless. Cook the syrup of 800 g of sugar, 200 ml of water and 5 g of citric acid. 1 kg of prepared cherries lower it into the boiling syrup and bring to a boil. Then reduce heat and simmer berries for 10 minutes.

Raspakujte the hot jam into sterilized jars, roll up their metal lids. Keep cherry jam in a dry, dark place.

Jam prepared in this way retains the color, taste and aroma of cherries. It is not candy.
Useful advice
Cherry jam with seeds is cooked a little harder than without them because the syrup is slowly absorbed into the fruit. If you try to cook quickly, the juice from the fruit will go into the syrup, and the fruit will shrivel. To prevent this, pierce the cherries first, then, pour the hot sugar syrup, and then you can jam.