You will need
If your computer does not have Picasa installed, download it at http://picasa.google.com/thanks.html.
Instruction
Run the program Picasa. In the left pane displays the scanned folders containing image files. In the right pane displays mini versions of the images. If the folder with the desired photo is displayed in the left pane, then STEP 2 of this instruction can be omitted.
If the folder is not displayed in the left pane, you must include in your scanned Picasa. Open the "File" menu, select "Add folder to Picasa". A window will open the "folder Manager". In the list, select the folder you want to add. In the right part of the window, select "Always scan" or "Scan once". Click "OK". All photos in the selected folder will be scanned and displayed by Picasa.
By double clicking the left mouse button will select the photo. In order to view its EXIF data, open the menu "Picture", select "Properties". Appears to the right table.
For the record the new date, click the menu "Tools", select "Adjust date and time". In the "date Change pictures, change the date using the drop-down component "Calendar" using the arrow buttons or the cursor keys. Also the date and time can be changed manually, place the cursor in the input field.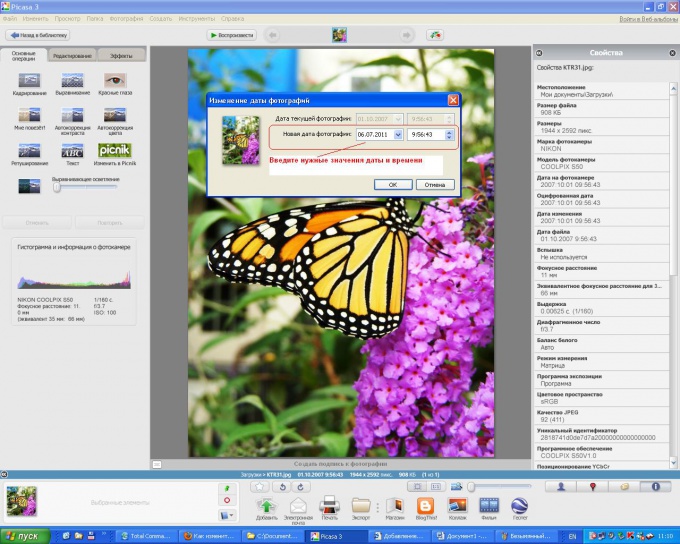 Click "OK" and save the changes. To do this, open menu "File" select "Save as" or "Save a copy" (in this case Picasa will save your photo with a new date in the same folder and the file name is automatically added to the version number).
Note
In the EXIF field "date taken" is recorded the date and time displayed on your camera. Before start shooting, make sure that they are correct.