Instruction
On the eve of his day of birth warn your colleagues. Perhaps it will be e-mailing with a reminder. At the prompt enter the time and format of the upcoming celebration. Your colleagues also need to prepare for the holiday.
Planning the celebration of the day of birth, remember that for the tea party suit dinner time. Feast with champagne, wine and other beverages will be perfect in the end of the day, and even better at the end of the week – Friday.
If you are a great cook, then by all means you will want very tasty to feed their colleagues. At work will appreciate your culinary skills. In a relaxed atmosphere will be an occasion to exchange recipes.
Making a menu, consider the tastes and preferences of your employees. In addition to alcoholic beverages be sure to include a variety of beverages: juice, mineral water, tea, coffee.
Prepare the sandwiches. They will fit a baton or white bread. Fillings for sandwiches may be completely different, depends on your imagination. For fish stuffing – mix one jar of canned fish in oil with onions, pickles and boiled egg. Season with mayonnaise. For mushrooms – chopped fried mushrooms with onion and mix with grated cheese and olives. Black olives pre-cut into rings.
Buy salad tartlets. This is a special of the puff pastry, which is very convenient to take with hands. Fill them with any salad.
Very stylish will look appetizer skewers. Strung on skewers can be products in any sequence. For example, a cube of ham, black olives pitted, red peppers, cheese.
It's hard to imagine your holiday table without a cake. He will be a worthy decoration of your celebration.
Invited staff members should not ignore such events. My colleague definitely need to be congratulated. Don't forget a gift for the honoree. Birthday is such a nice gesture. Usually in groups prepare a gift together. Personal gifts are presented separately.
Your greetings should not contain obscure jokes, double-entendres and innuendo. Take part in a conversation with neighbors on the table. Drink alcohol in moderation, not forgetting that it's your work team, but not close friends.
After the celebration, thank the birthday child and help him clean the plates and Cutlery from the table. Clean up after themselves if you leave before the others.
Take a picture of bright and cheerful moments of celebration of day of birth on work.
Advice 2: How to celebrate a birthday in the team
Birthday
at work – very special occasion. It can be formal or sincere, or the crowded chamber. The main thing – your event should fit into the fabric of the enterprise and not to disturb the working discipline. Then the user will congratulate you sincerely, and will probably present a good gift.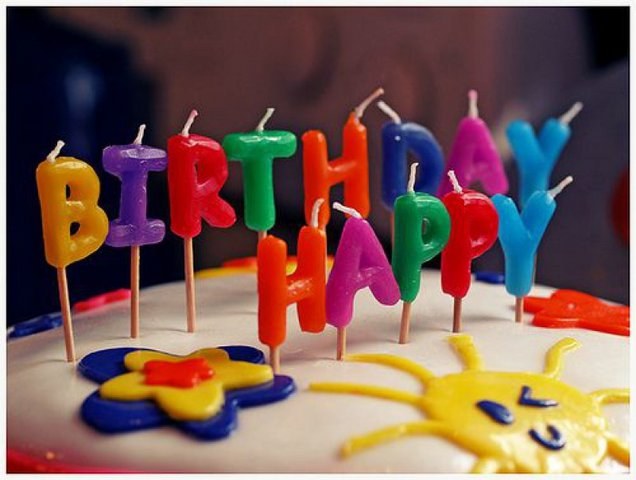 You will need
- refreshments;
- beverages
- disposable dishes and utensils.
Instruction
Check in advance, as they celebrate the holidays in your team. Is it allowed to drink alcohol, whether it is possible to organize a small buffet in the office or you will have to use the dining room. Ask, do I have to notify all of your colleagues or better to limit the compliments of the employees of his Department. If you're new to the company, ask appropriate questions to the staff Manager or just the veteran of the team.
Define the rules for the future holiday. For example, you can invite colleagues to drink with you tea during an afternoon break or to plan get-togethers after the working day. Special cultural programs office do not include holidays, but you can take care of unobtrusive musical accompaniment.
Consider the menu a little festive buffet. The best option – the canapés as a snack, convenient sliced fruits and vegetables and a dessert. Sandwiches make small and low, the vegetables are cut smaller pieces. Buy special skewers that are easy to take canapés and vegetable slicing. Don't forget disposable plates, cups and forks.
For dessert, the serve cakes and biscuits. Summer is the best sweet version of ice cream. Buy mineral water, tonic water and a couple kinds of juice. If you plan to bring alcohol, prefer wine. For lovers of spirits can fall a small bottle of cognac or whiskey. Champagne on office holidays file is not accepted, as well as vodka. But you can mix cocktails – it will be a very interesting solution, especially if your office has a refrigerator with the ice supply.
The day before the celebrations remind people that you definitely want to see at the festival, the time of the meeting. Then you will be able to count on a small but pleasant surprises. Be ready to buy and those who will visit without an invitation. You don't have to dump to feed those present, however, the supply of food is to be adjusted so that a sandwich or cake and a glass of juice was guaranteed to everyone.
Ensure colleagues are not missed. Make conversation, tell a few jokes. If you were presented with a gift from the team, say thank you, saying little a warm speech.
Do not tighten the occasion. If you are going in working time, the celebration should not take more than an hour. In the evening you can linger a little longer. However, don't linger in the office until late evening.
After a celebration make sure to remove the scraps. Do not discard leftover food and packaging from the products in the paper bin. Pack all waste, bottles and used disposable dishes in plastic bags and throw them in the trash. Wipe tables and wash the Cutlery and dishes borrowed in the office.
Note
Whatever resulted the celebration of your birthday, after all it is a working day! Note that you can have a look on the "light". Someone behind the wall would be to finish an urgent report or to reduce the debit with credit, and your loud songs and laughter can hinder the work of colleagues.
Useful advice
An ordinary employee, it is customary to congratulate closest colleagues, direct superior and those with whom he interacts regularly at work. To give a gift "from himself" is not necessarily to ignore birthday – rude. Employees from other departments to congratulate at will, but you should think about the souvenir, if you want to join the buffet. If this is your first birthday in a new place, ask the old-timers made it possible to treat a colleague, when (at lunch, after work) and what those involved in training.