You will need
garden var
- lime
a solution of Malathion
- garlic
- tobacco or shag
- wood ash
- celandine
Instruction
Only a comprehensive approach that includes prevention and control, will allow you to get rid of aphids on plants. Remove from the stems, exfoliating bark, treat all the cracks and damage to garden pitch and whitewash trunks with solution of lime.
Before Bud break and the beginning of the growing season spray the trees and shrubs with a solution of Malathion, at a concentration of 75-100 g of dry substance per 10 liters of water.
Remove from the site all not rotted over the winter the plant remains weeds.
To avoid the appearance of aphids on indoor plants, regularly inspect the leaves and remove dry parts of plants, periodically wash them under running water or spray from a spray.
For pest control you can use preparations: Aktara, Aktellik, Fitoverm, INTA-VIR, Decis, etc., but don't forget that insect easily gets used to the drugs, so they should not be used more than 2-3 times per season.
Not less effective to get rid of aphids on plants help folk remedies, for example, the infusions and decoctions of various herbs. It is better to prefer them in the active growth period of plants because they will not only destroy the pests but not harm useful insects. Often use the following solutions:Garlic infusion. Chopped teeth of garlic (100 g) pour 3 liters of water and allow to stand for 3 hours, then dilute by half and spray the plants with fresh solution.
Tobacco infusion. Per 10 liters of water take 400 grams of tobacco, or of tobacco, and 40 g of soap, boil 30 minutes, cool, strain and spray plants.
Wood ash. It is necessary to insist 2 tbsp. of wood ash in 10 liters of water, add 40-50 grams of soap and spray the plants.
A decoction of celandine. Fresh (300-400 g) or dry (100 g) plants pour 1 liter of water and infuse during the day. The infusion boil for 30 minutes, strain and use for spraying.
In addition to the above tools, you can use infusions of the leaves of tomatoes, potatoes, dandelion, Tagetes, onion peel etc.
Advice 2: How to get rid of aphids on indoor plants
The role of indoor plants large: they are not only the decoration of the apartment, but the oxygen generators. But often our "green friends" attack small insects – aphids, that forces to look for ways to eliminate these pests.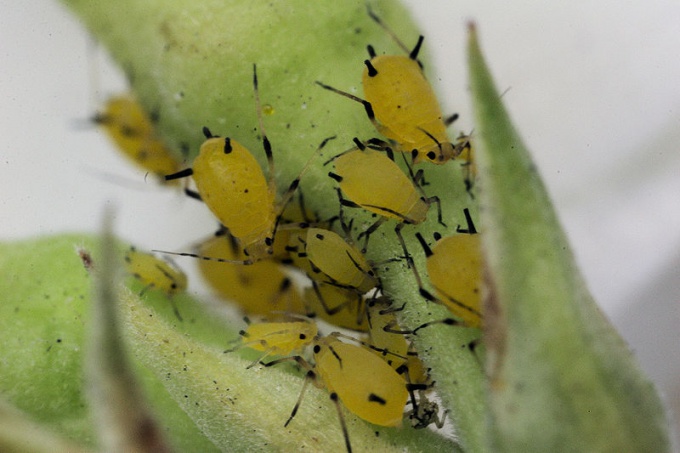 You will need
- ash;
- tar soap;
- peel onions and garlic;
- celandine;
citrus peel;
- tobacco or tobacco;
- the roots or leaves of dandelion.
Instruction
To get rid of aphids on indoor flowers, use insecticidal preparations, such as AntiVir, Neuron, arrivo, Akhtar and many others, the choice of these chemicals is very large. If there are severely affected leaves, then it is better to remove. Treatment need, follow the instructions supplied with the chemical. Often after a certain number of days will require re-use of the drug, more than 3-4 times to apply the same chemical should not be, because surviving species can produce offspring that are resistant to the action of the chemical.
The use of chemicals indoors adversely affects the health of domestic animals and of man himself, so folk remedies are a good alternative. Pour 700-800 grams of ash in 10 liters of boiling water and leave to infuse during the day, after the slice coal-tar soap, and add this solution, then can spray the plant.
To get rid of aphids on potted flowers you can use infusion peel onions or garlic: boil the husks with boiling water, allow the solution to stand and cool, then spray the infected plant. Repeat the treatment three times once every 7 days.
300 grams of fresh celandine (whole plant flowers) or 100 grams of dry pour a liter of boiling water and leave for 36 hours, after spray flower room.
200 grams of citrus peels pour a liter of boiling water, leave for 3 days in a warm place, then spray.
Put next to aphid infected plant pelargonium scented, and in a few days, pests will disappear.
40 grams of tobacco, tobacco steep for 2 days in a liter of water, dilute solution after another liter of water and apply.
Chopped onion pour boiling water over and leave for 6-7 hours. The solution was then strain and use.
300 grams of the roots or leaves of dandelion, pour 10 liters of water and insist 2 hours, prozivaete and spray.
Note
Plants after the attack of aphids lose decorative, covered with sticky secretions and sooty mold. So how to kill aphids? To get rid of aphids, you can either of the following methods. Ways of dealing with aphids: In the case of minor destruction of the plant aphids may help regular bathing under the shower or trimming is the most inhabited parts of the plant.
Is the advice useful?
Aphids — in English. "aphid" — the most common pest of houseplants. This is a very small insects green, brown or black in color, which depends on the type. Aphids live in colonies and reproduce very quickly, so if it not to destroy it, it will cover the whole plant and move to another. The plants on which aphids live, grow slowly. They have bent stems, twisted leaves. There are several ways of dealing with aphids