You will need
- embellishment: rhinestone, beading, sequins;
- threads;
- needles;
- colored threads for embroidery (floss, iris, or coloured thread)
pieces of silk, lace;
- a pair of scissors.
Instruction
To embroider jeans you can, for example, the most simple and true way – with colored thread. For this you need to decide on a pattern or ornament that you want to embroider part of pants, which you will apply the embroidery. Large patterns will look good if you position them vertically on the femoral part, small or small – on the pockets, especially the back. However, it all depends on your imagination and models of jeans. With a pencil, chalk or a ball point pen to apply the pattern to the fabric and embroider the satin stitch. When you are finished, be sure to iron the embroidery with an iron.
The second option rework of jeans can be a painting them with rhinestones. In any store for needlework a great selection of rhinestones. Some of them are sewn and some are glued with a hot iron. To embroider jeans with rhinestones, at first, as in the first case, draw the pattern on the fabric and then fill it with rhinestones. Similarly, you can embroider the jeans with beads, sequins or even small seashells.
A good way to embroider jeans – on the application of any fine fabric. Trimming lace, colored silk will serve you well. Make a sketch of the pattern, and then artistically place on it the pieces of fabric and carefully sew. To complement the decoration can be with beads or beads.
Even better would be if you sew the lace fabric to the wrong side of the jeans, and then cut dungarees patterns, which will be seen through the lace. This decoration will give a chic and sexy even the old and worn jeans, by the way, the light blue makes it looks advantageous.
If you did not have any jewelry, you can go the easy way. Take one more old jeans, cut out lots of patches and sew them onto the jeans that you decided to upgrade. You can embroider the entire surface of the pants with many patches of rectangular shape, but different sizes, and you can sew only a few patches of any original form. Cut patches can, for example, in the form of a silhouette head of Mickey mouse, cat paws, heart, various letters, etc.
Advice 2: How to decorate old jeans
What jeans are worn out – not a reason to get rid of them. Can their hands turn them into a real masterpiece of design art and not necessarily for the to be a professional seamstress. Just decorate them with beads, studs, lace, buttons, and your wardrobe will appear exclusive, which is sure to become the envy of passers-by.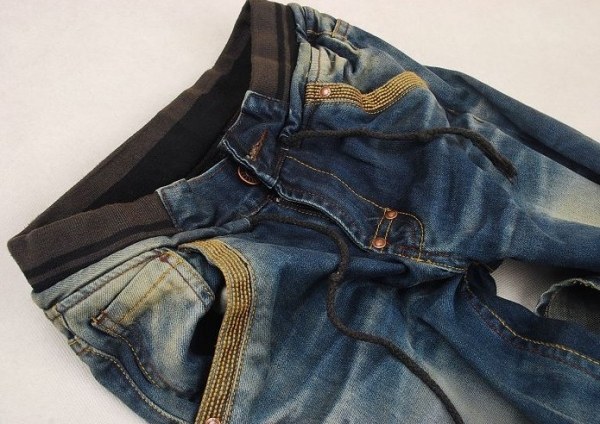 You will need
markers for tissue;
- acrylic paint;
- lace;
- stencils;
- rhinestones;
- beads;
- buttons;
- threads for embroidery;
- rivets.
Instruction
The easiest way to decorate your old jeans to paint markers for fabric or acrylic paints. With their help you can create a pair of jeans the whole picture or individual subjects. Before painting be sure to put under the place where you can take a picture, cardboard or cellophane to paint is not leaked. First, make a sketch, and then paint it and let dry. Then iron the spot pattern on the back of iron.
If drawing is not your Forte, do not worry. Come to the aid of stencils. In their role can act as disposable vinyl doilies and lace. Secure the stencil on the jeans with duct tape and apply acrylic paint in its slot. For its application you can use a brush or sponge. You can use spray paint. In this case, cover with paper fabric around the stencil to protect it from accidental splashes. In order not to smear the resulting image, remove the stencil only after the paint is dry.
Jazz up your jeans applique. Their choice of clothing store is great. Attach them will not be difficult. Just attach the applique to jeans and go over it with a hot iron. For greater strength on the back of it will catch its threads.
To have your jeans literally gleamed and sparkled with colored lights, armed with rhinestones and sequins. You can use them separately or together. Put them in a pattern or randomly scatter on the jeans. It all depends on your preferences. In addition, you can sew on jeans beads, colored buttons, beads. Just don't overdo it. The abundance of this decor - a clear sign of bad taste.
Decorate old jeans with rivets. They look great on the side seam and pockets. However, you can put them on the leg. Again, it all depends on your imagination and preferences. Studs you can put the word or picture.
Sew along the side seams suede or leather fringe, and your old jeans will be given a second life. On knees and pockets, you can sew the patches to match the fringe.
Decorate jeans with embroidery. It can be done personally with the help of embroidery floss, or purchase a ready and simple to glue.
Note
Jeans, embroidered with white beads or sequins, will be very impressive to glow under UV light in a club.