You will need
sour cream,
eggs,
cheese
bell pepper,
onion,
corn,
peas,
vegetable oil,
salt
Instruction
You can often see the recommendation to boil the green beans for 5-7 minutes before further cooking. In practice, if the beans are soft, it does not require boiling. The easiest version of how to cook green beans is to stew it in a cream sauce. For this the beans should be rinsed thoroughly, trim the stalks and chop into small pieces with a length of 3-4 cm is Not forbidden to extinguish the pods entirely, but it is not too convenient in cooking and food. Beans are filled with cream, diluted with water, salted and boiled for 20 minutes. An indication of the willingness of beans is enough softness.
Also the green beans, cooking recipes which are varied, can be used for cooking omelets. To do this, the beans are boiled, fried in a pan in vegetable oil, then poured the eggs, whipped to a smooth consistency. The dish is rich in folic acid, preparing a total of 12-15 minutes. Before turning off the burner you can sprinkle omelet with grated cheese to the top has formed a Golden crust.
Green beans can be used for making vegetable stew. It combines perfectly with the bell pepper, corn,
green
peas and onions. Stew vegetables on a low heat for 30 minutes. In addition to the vegetable oil in a pot and added a small amount of water, through which veggies are more steamed and juicy.
Advice 2: How to cook asparagus
Asparagus
or green
beans
came into our diet relatively recently. However, it undeservedly neglected, perhaps not knowing about all its useful properties, or cooking recipes. At the same time green beans are rich in vitamins of groups A, B, C, E, there is a large amount of mineral substances (magnesium, folic acid, calcium, iron, chromium). Contained in this beans amount of fiber improves gastrointestinal tract, eliminates toxins from the body, so the green beans recommended to eat during a diet.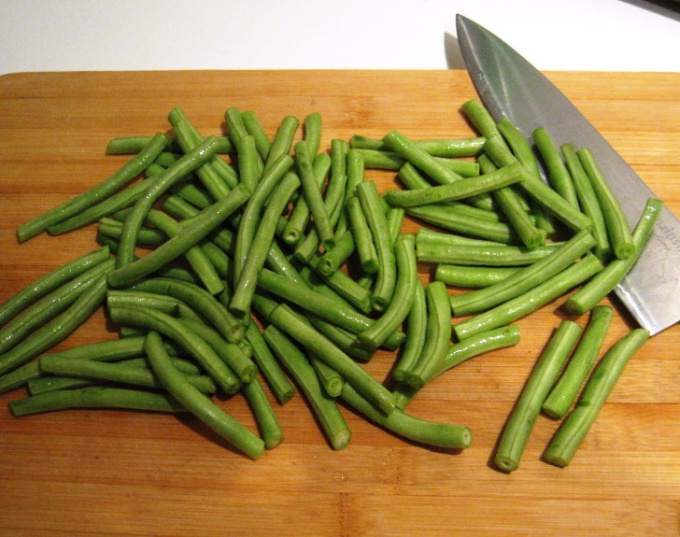 You will need
300 g asparagus;
2 tbsp lemon juice;
2 tablespoons breadcrumbs;
spices to taste.
Salad of asparagus with cheese:
100 g asparagus;
200 g of cheese;
3 tbsp olive oil;
1 tbsp of lemon juice.
Salad of asparagus with mushrooms:
200 g of beans;
200 g chanterelles;
1 tomato;
olive oil;
1 clove of garlic;
greens.
Instruction
The best way of cooking asparagus is steamed. Wash, cut the bean culture into several pieces or boil them whole for several minutes. Then use the beans at your discretion.
The side dish of asparagus
The finished beans salt, pepper to taste, sprinkle with lemon juice.
Roll the pods in breadcrumbs. You can take crackers, mixed with your favorite spices.
Fry for 1-2 minutes on high heat.
Wonderful side dishes mixed vegetables – steamed green beans, carrots, cauliflower, green peas season with salt, drizzle with olive oil, sprinkle with chopped herbs and serve, for example, meat or fish. Combinations of vegetables can vary according to your taste and imagination.
Salad of asparagus with cheese
Boil the beans and cut into pieces with a length of about 3 cm.
Cheese grate on a coarse grater.
In a salad bowl put layers of beans and cheese, sprinkling each layer with mixture of olive oil and lemon, you can sprinkle crushed nuts.
Salad green beans with mushrooms
Combine the beans, roasted chanterelles, finely chopped tomatoes.
Dress the salad with mixture of olive oil, minced garlic, greens. Place on lettuce leaves.
Is the advice useful?
Green beans are delicious in combination with many products – cheese, mushrooms, meat, fish. It can be used all year round, getting a frozen mixture;

When choosing asparagus buy only dry and juicy pods, with a bit of unripe fruit;

To preserve rich green color, cooked beans immediately dip in a bowl with ice water or with ice.
Note
The key to success in cooking beans is not only the recipes. You should be able to choose the green beans. If the pods are very thick, dried, yellowish, and through the walls of the pod is translucent, large beans, there could be no cooking. To the beans have turned soft, you need to buy young soft beans bright green color.
Useful advice
For any recipes you can use as fresh green beans, and frozen. In the softness of the latter there is no doubt and it is much faster.