You will need
8 tablespoons of vegetable oil;
1 teaspoon of sugar;
1/2 teaspoon of salt;
1 teaspoon of vodka;
1 1/2 cups of water;
a big bowl;
small bowl;
saucer;
sieve;
a cotton or linen napkin.
Instruction
In a small bowl, pour half Cup of cold water. Sprinkle salt and sugar and stir until dissolved. Sift the flour. Pour it in a pile on the table. At the top make a hole. In deepening pour the sugar solution and salt. Add a teaspoon of vodka and vegetable oil.
Knead the dough. Knead it until a homogeneous elastic mass. The dough for pasties must be stirred several times. Having obtained a homogeneous mass, shape it into a neat and not very dense clump. Put the dough in a bowl and cover with a dry cloth.
Allowing the dough to Mature for half an hour, again knead it and shape into a ball. The second time, cover with a cloth and leave for half an hour. Repeat the procedure a couple more times.
Roll out the dough into a thin pellet. Its thickness should not exceed 3 mm. Cut workpiece using a saucer. You should be circles with a diameter of 15-18 cm Size is not critical, you can make pasties and more, and less.
For minced meat for this amount of dough you will need 600 grams of meat. It can be lamb, pork or beef. You can make the stuffing and of the two, and even three types of meat. Cut the meat into pieces and pass it through a meat grinder. Add minced onion and herbs (also minced), salt, pepper. Dilute the beef milk should be semi-liquid. All stir it well. In the middle of the circle with a diameter of 15 cm put 1 tablespoon of stuffing.
Advice 2: How to make the dough for pasties
Pasties – a kind of cakes made from thin and unleavened dough with various fillings. For the filling use not only the meat but also cabbage, cheese, mushrooms and potatoes. For making pasties is especially important to use the right dough recipe, then pasties will turn out delicious and soft. Surprise your household appetizing and hot pasties before which no one can resist.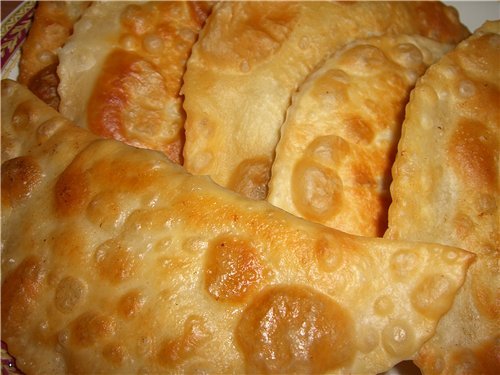 You will need
4 cups flour,
salt,
1 teaspoon granulated sugar
8 tbsp vegetable oil.
Instruction
For the dough you will need a bowl. Pour it in 1.5 cups boiled hot water, add a couple pinches of salt and one teaspoon of sugar. Mix everything carefully.
Measure a little more than four cups of flour and sift through a sieve. Slides in the center of flour make a well and pour in the hot water with dissolved salt and sugar.
Add one teaspoon of vodka and eight tablespoons of vegetable oil, knead the dough. Cover the dough with a clean cloth or towel and allow it to rest a little.
After some time again Pomezia dough and cover with a cloth and let it lay. Knead, so the dough 3 times.
Left to roll out the dough in a layer thickness of 3 mm, cut out circles with a saucer. Put on each circle of dough a little minced meat and combine the edges. Make a border with a fork, pressing the teeth to the edges of the dough, and fry in deep fat with a large amount of vegetable oil.
Note
During cooking, dough, egg laying is not necessary, as they reduce the softness and plasticity. The dough for pasties need to brew, so it should be kneaded in boiling water, this will give the dough a special lightness and delicacy that is the main component of tasty pasties. Vegetable oil added during kneading, will help give the finished pasties particular bubble. Added to the batter vodka makes it a little crispy and receivemy frying.
Is the advice useful?
During lent, you can cook the pasties with cabbage filling. You can try to cook the dough for pasties with the addition of beer. For this you will need one glass of light beer in which you want to add salt, sugar, one egg. Stir in desired amount of sifted flour. The dough some time must lie under a towel, regularly knead. The dough should be not less than one hour. Instead of beer you can add mineral water, with gas bubbles, it will be more tender.
Note
Vodka is not a mandatory ingredient, so if it is not, nothing bad will happen.
Useful advice
You can take the ready meat. It should be mixed with milk or meat broth.