Instruction
Bring the newly born kid to the nipple of the mother, pre-straining off a little colostrum. Postpartum colostrum can help the kid to be cleansed from original feces and will protect at first because of infection, i.e. will contribute to the initial formation of immunity.
Don't let the kid down to the 10-th day of his life nothing but mother's milk, gradually increasing the dose. The first week of life the kid should be fed no less than 6 times a day. To 10-th day – 5 times.
Starting from the 11th day of life, feed your kid 4 times a day, adding in his food a little liquid cereal with breast milk. At this age it is necessary to take away the kid from the udder.
Start slowly to accustom the kid to grazing. Three weeks after the birth of his kid ¼ of the daily diet can consist of finely chopped root vegetables (mainly potatoes and carrots), grated apples, fresh herbs or a liquid oat porridge.
Starting with a 30-day, gradually decrease the dose of milk. So, if a kid at the age of 30-40 days, it is recommended to feed only three times a day, and mother's milk is still 2/3 of the diet, at the age of 60-70 days the amount of milk in the diet of the goat is only 1/5 part.
Feed the goat, in addition to milk, dry concentrates, cereals, bran, root vegetables and grass constantly, starting about a month after his birth.
For two months the kid can already do without cereal, so replace it with dry feed, hay or imiami.
Give a kid clean water for at least 3 times a day first with warm water at room temperature, then cool (but not below 12°C).
Monitor the health of the goats. With two weeks of age be sure to give them vitamin and mineral supplements that promote the bone growth and the formation of immunity.
Advice 2: How to feed goats
A hold in farming goats. To goatand gave the highest yield and was always healthy, it must be fed properly. Goats are very clean animals and if the feeders or waterers are dirty, they will refuse to feed. Therefore, after each feeding all uneaten food should be cleaned out, the feeders and waterers thoroughly washed. The goat will never be, there is remaining food, it can be given to pigs, or rabbits.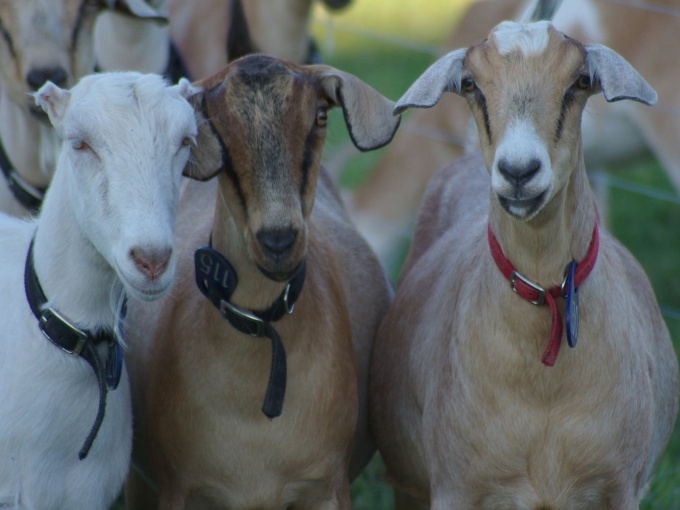 You will need
-hay
silos
-cake
-root vegetables
-bran
-grain waste
-birch twigs
-turnips
-Mel
-bone meal
Sol
Instruction
The newly born goatswill strengthen contain breastfed for under the mother or is deposited by it and fed milk from a bottle with a nipple, gradually accustoming to drinking milk from the container. The milk should be fresh, just statnim. With the capacity to start feeding as soon as the goatLETA learn to stand on their own feet. To do this, give them time to get hungry, bring a bowl. If goatsGoldilocks not drink, in a bowl put your hand down and goatsLenka give me the finger, gradually accustoming to drinking the milk itself. To feed goatswill strengthen 3-4 times a day and at a time to give 250 ml of milk.
With two to three weeks goatsLatham applied in a manger juicy hay, a mash of bran and withdrawn to graze on fresh grass.
With four months the goatswill strengthen the transferred to the common herd and feed as well as adult goats. To four months must, in addition to feed to give 750 ml of milk divided into portions.
The diet of adult goats should be very diverse, especially in autumn and winter. In summer the main food is fresh grass for grazing.
In winter the diet one goatyou must be hay not less than 2 kg, turnip – 4kg, birch brooms 1 kg, half a kilo of bran, 250 gr. cake, 2 oz. salt, 15 ml of chalk and bone meal.
Also give the silo, if it is properly laid and properly stored, has a putrid smell. Silos give small doses, gradually bringing to 3 kg per day.
Be sure to give the grain mash and chopped root vegetables.
Feed the goats 3 times a day, strictly at the same time.
Note
The first week goat kids fed 5 times a day, every 3.5 hours. On the first day give 100 g of milk, then a single rate is gradually increased, and the number of feedings decrease. To the 10-20-day age rate of milk is adjusted to 1.1 to 1.2 l, and 40-day it was gradually reduced because in this time kids already eat concentrated, juicy and roughage.
Useful advice
To 10-day-old lambs and kids fed 6 times, from 10 to 30 days 4, 30 and 90 days — 3 times a day. To grow healthy, well-developed lambs and kids, it's suggested to give them cod liver oil, which is added to milk or broth: up to 20-day age 4-6 g, to 40-day-old 6-10 year, over a 40-day aged 10-15 g per head per day.