You will need
- Onion sets;
- copper sulphate;
- organic fertilizer;
- mulch;
- garden tools.
Instruction
Select the location for planting of onion. Good light loamy soil. If your soil is acidic, before planting, it must be limed. Don't put onion in the place where you previously grew Liliaceae (garlic or onions). Best predecessors will be those of culture, under which a large number were made organic fertilizer (tomatoes, early potatoes, cucumbers, zucchini). Don't put the onions in a dark windproof.
Form a ridge. Dig the soil well and carefully select the weeds. Disinfect the soil with a solution of copper sulphate (1 tablespoon per 10 liters of water). Pour the prepared solution the earth at the rate of 2 liters per 1 sq. m. Make a bed of the groove depth of 5 cm at a distance of 15 cm from each other.
Prepare onion sets. Get your desired grade. Sort bulbs (only those whose diameter is less than 1.5 cm). Before planting, treat sets from fungal diseases with a special fungicide. Plant bulbs in early October. Place them in the grooves at a distance of 3-4 cm from each other. Pour the onion mixture torturegalaxy.
Prepare a bed of onions for the winter. Before frost over mulch a bed of peat or sawdust layer is not less than 3 cm It will keep small bulbs from freezing. In the winter, scribble on a bed of snow.
In the spring, do not allow stagnation of water on the planting onions. Gently rake the bedding-mulch. Not zapazdyvaniya with this procedure, because the young arrows of the bow is very fragile. As soon as sprouts, to thin out them, leaving the distance between the bulbs 5-6 cm
During the first half of the summer well-watered young onion. Spend 6-10 liters of water per 1 sq. m. Water carefully so as not to break the pen. For irrigation use only warm water. This will save the bow from the disease downy mildew. Time proplyvaya young trees.
Over the summer, and fed the onions 2-3 times organic fertilizers (poultry droppings, mullein or urea). When the pen reaches the height of 12-15 cm, do preventive treatment against fungal diseases (1 tbsp of liquid soap and oxychloride of copper dissolved in 10 l of water).
As soon as the onions stop forming new pen and begin lodging – proceed to mass harvesting (beginning of August). Dry bulbs in the sun for 12-15 days. Cut the leaves and doushite at a higher temperature is 30-35 C. Store the onions in a dry place in boxes or baskets.
Advice 2: How to grow good onions
To grow a good crop of onions, it is necessary to choose a suitable site. High yields can be obtained on humus-rich loam, located in the shadow of the garden trees. It is important to observe agronomic practices of growing onions, which is timely weeding, watering, loosening of row spacing and fertilizing with organic fertilizers.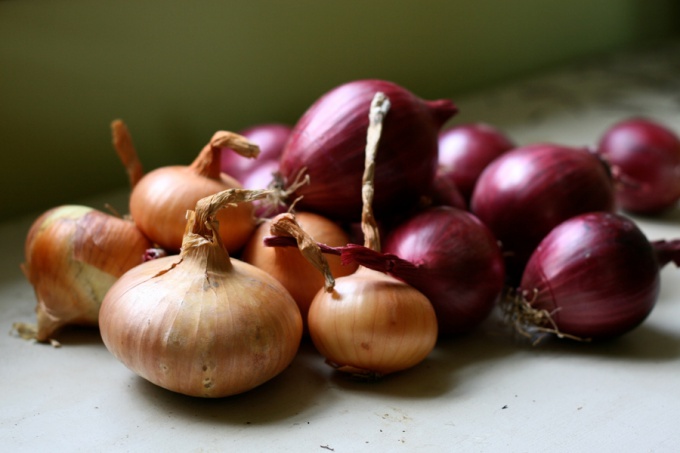 You will need
- Soil;
- Fertilizers;
Seeds;
Water;
- Shovel;
- Watering.
Instruction
Dig a flower bed. If the fall has not brought the manure to fertilize the soil with compost earth or humus. Also under digging is recommended making nitrogenous fertilizers. For example, 3-4 g of urea for each sqm of land and have a positive impact on the growth of onions – no matter a feather or a turnip you grow.
Plant seeds of onionsintended for getting green. The distance between the grooves should be at least 30 cm as the seeds are quite small to avoid dense plantings, it is recommended to mix with river sand. Farming of onionsgrown on the pen is reduced to a generous watering with the loosening of row spacing and holding fortnightly fertilizing with organic fertilizers. Alternate infusion fermented weeds and manure muck. Well as green onions you can get, landed ordinary bulbs purchased at the grocery store, bridge way.
Prepare onion sets. (To grow a turnip – you can plant seeds and wait two years. But in terms of non-Chernozem zone it is better to make use of this agricultural technology.) For training sets makes sense to select good healthy bulbs, incision of the cervix is dry, soak the onion in a weak solution of humic fertilizer for 2-3 hours and put on tucked in humus seedbed. Row spacing is 20-30 cm between plants in a row 10-15 cm If you want to get the best and high product quality – do not cut off the feather. Let him sagelat, and all the nutrients go to the bulb.
Purchase seedlings of perennial chives-onion. It is a small onion, and a thin feather, but since growing a Bush, the yield of chives-onion is one of the highest. Another quality for which chives gardeners appreciate the early regrowth. Usually in April or may, you can get a flavorful and healthy greens to the table. To grow chives, should take a responsible approach to the preparation of the soil, because the plant is planted for 5-7 years. When planting, cut the aboveground part, leaving a "stump" of 2-3 cm. Plant breeding method (in each slot 5-6 onions). Be sure to pour and cover for a couple of days dark film to avoid direct exposure to sunlight. Chives grows well in slightly shaded areas, likes frequent watering and responsive on dressing with organic fertilizers.
Note
If the bow is not clean at the time and he has formed new roots, to store it will be impossible.