You will need
alkaline mineral water;
- milk and soda;
- tea and honey;
drugs relieves the cough.
Instruction
Most importantly, the humidity in the room. The fault of dry air mucosa is affected with germs dries up even more and there is a cough that does not subsides. In the evening hang wet towels in the room. The moisture will evaporate from them, and moisten the respiratory tract. If you have a humidifier, you can do nothing.
Alkaline mineral water soothes the throat. Release gases from the mineral water and drink before bedtime 100-200 ml of water. If you are overcome with a cough and during the day, then drink in small doses of mineral water during the whole period of the disease. And that cough became wet quickly and not so painful, so consume at least 3-4 liters of water a day.
To remove an attack of dry cough will hot tea with honey. Dissolve 2 teaspoons of honey in a glass of tea and drink in small SIPS. Gradually, you will become a little easier. Lie down in bed and try to sleep. If you don't want to drink or make tea, just slowly associte honey is supposed to help.
Milk and soda is a good way to soothe a dry cough, but really, the taste leaves much to be desired. Heat the Cup of milk and add a little soda. If you over heat the milk, then the soda just be liquidated and the effectiveness of the drink a few drops. Drinking milk with soda several times a day. Look the condition and try to remove the cough, as soon as possible.
If you did not help of improvised means, talk with your doctor about whether medication relieves the cough. They, of course, is very harmful, so as to affect centers of the brain. In their composition often includes codeine, which caused too many side effects. To accept these funds can be no more than 2-3 days. Drugs can advise you "Codelac", "Terpincod", "Libeksin" and similar. But better still try to avoid their reception and soothe a dry cough.
Advice 2: How to calm a cough before bedtime
The cough itself is very unpleasant, but when he bothers to sleep at night, it becomes almost unbearable. Of course, to solve the problem, you should try to cure diseases, symptom of which is coughing. However, the process was quicker and easier, you can use additional funds.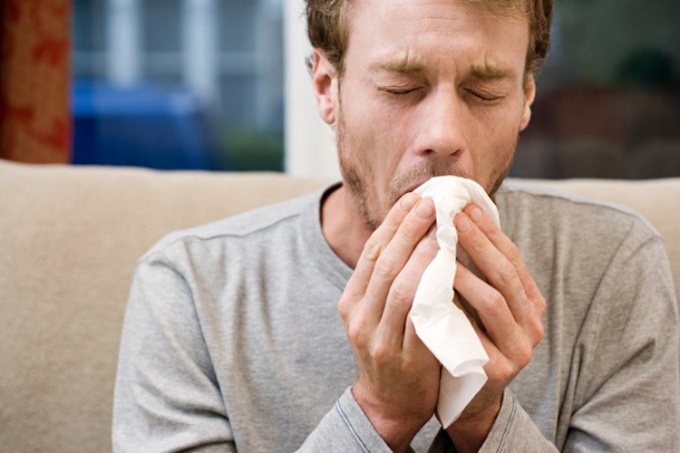 You will need
Warm sweater, milk, honey, ginger tea, butter, pine needles, mineral water.
Instruction
In the evening just before bedtime hold the hands under running hot water for 5-7 minutes. Carefully RUB them, making sure that the skin from the fingertips to the shoulders well warmed. Then quickly dry the hands with a towel and put on a warm wool sweater. It is important to do immediately after grinding, otherwise the skin will have time to cool down. Then lie down in bed, drink a glass of hot milk with honey or ginger tea and try to sleep. It is important with no one to talk to not to strain once again the vocal cords. Read also desirable. Otherwise you can provoke another coughing attack.
Take the radish, wash, peel it and then cut into small pieces or grind on a grater and add to the bowl along with the separated juice. In the resulting mass, add a little sugar, and then mix. Sweetened radish juice you need to drink 1-2 tablespoons every hour throughout the day. Be sure to take this "medicine" and at bedtime – over an hour and for half an hour. This remedy helps in the fight with the night cough.
Boil a glass of milk and add 1 tsp butter and a pinch of baking soda. The resulting drink you need to mix and drink while it is still hot. Drink slowly, in small SIPS. Milk oil "coats" the throat, easing discomfort and relieving cough.
Make a decoction of pine needles and inhale its steam. A good option for getting rid of night coughing – first breathe over a saucepan of broth for 10-15 minutes and then boil the liquid again and leave in an open container next to the bed. This method can relieve spasms, relieve pain in the throat and get rid of the cough. Well, if after inhalation you drink a glass of hot tea with honey or boiled milk.
Be sure to make sure that the room is maintained in optimal humidity, especially if you are heating devices that dry the air. You can leave the room a pot of hot water or use a special moisturizer. Dry air irritates the throat and becomes an additional cause of coughing.
Open the bottle of carbonated mineral water and leave it for 2-3 hours to gases gradually come out. An hour before bedtime, start to slowly drink the water. It will soften the throat, reduce coughing. This method is appropriate if we are talking about dry, not wet cough.