Instruction
In Australia, in their homeland, budgies feed on the seeds of grasses and cereals. To taste them, and young branches and buds of trees and shrubs, some fruit and berries and even small insects. But the main food for parrots – grain mixture: the different varieties of millet, oats and Canary seed.
In the grain mixture you can add flax seeds, sesame seeds, grass seeds, hemp seed and sunflower seeds (small seeds only and only raw. Roasted seeds can be deadly!).
The norm of food for the average parrot to two teaspoons a day. It is not necessary to give the pet additional mixtures too often. Do not forget that the main dish for parrot – it's all the same millet.
Psyllium seed and dandelion prepare in the summer for future use. They should be stored in canvas bags. Buying ready-made food, pay attention to packaging. It is desirable that it was transparent plastic. Food in a cardboard box may become wet during transport that causes dangerous mold.
Wavy parrots willingly eat additional food: eggs, hard-boiled, cottage cheese and soaked in milk white bread. Teach Chicks to eat porridge made with water, crushed rice with millet. Porridge should be crumbly and not salty.
A fresh egg contains proteins, fats, calcium and vitamins is a wonderful nutritious food. Cook the egg for not more than 7 minutes. Then finely crumble it and mix with semolina or breadcrumbs. It is not necessary to give too much - 4-5 g eggs for a parrot is quite enough.
Unlimited you can give green forage is rich in vitamins and minerals. Often offer Pets apples, lettuce, cabbage and dandelion leaves in the summer. Vegetables wavy parrots are allowed to eat pumpkins, melons, zucchini, watermelons, tomatoes, cucumbers, beets, fresh peas, spinach and sweet peppers. Vegetables must be fresh and preferably home beds, because the vegetables from the market can contain dangerous nitrates.
Females in the fledging period offer sprouted grains of oats, wheat, barley and rye. Rinse seeds, cover them with warm water and leave it on all day. After about a day they hatch". Swollen seeds wash with water, lest they dry out.
The birds must be trough with the special sand for budgies. The sand involved in the processes of digestion, as a result, food is easier cleaved by enzymes.
Budgies are willing to sharpen their claws and beaks on the fresh twigs of trees and shrubs. Branches need to tear far from roads and industrial sites. Previously they had to soak for several hours in cold water, then scalded with boiling water to destroy possible parasites. Remember that it is forbidden to give the parrots branches of pine trees.
Advice 2: How to feed a wavy parrot
Food should be varied, balanced content of essential trace elements and vitamins based on the age of the birds. From what to feed a wavy parrot, directly affects the health, mood and appearance of a bird.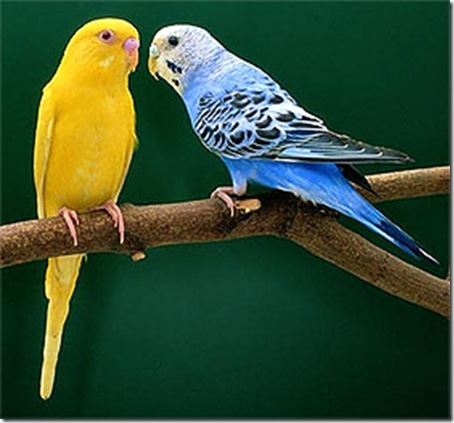 Instruction
The main component in the diet of wavy parrot are dry mixed grain. They include oats, millet, Canary, hemp seeds and sunflower seeds. When the self-preparation of the grain mixture is necessary to consider that the percentage of millet of the total weight should be 65%, oats 20%, Canary seed 10% and 5% of hemp and small sunflower seeds.
In winter and during the nesting season to feed a wavy parrot sprouted grain wheat, oats.
A necessary component in the diet of birds are greens, fresh fruits and vegetables. This is the main source of vitamins. They need to give daily in unlimited amounts.
The greens are looking like vegetable (cabbage, radish, spinach, beet) and wild (dandelion greens, plantain, knotweed). You should not feed the birds herbs, such as parsley.
Fruits and vegetables provide a fresh and peeled. You can feed any fruit and vegetables except mangoes, persimmons, papaya, avocado, potatoes.
You should not feed a parrot vegetables cooked soups and stews. Also the candied fruit and having seeds with a high content of chenille acid (cherries, plums, apricots).
In winter, when no fresh herbs you need to give budgies herbal flour. For its preparation, gathered in the spring and early summer herbs (dandelion leaves, young nettles, red clover buds, alfalfa and other herbs), dried in oven and ground by hand into flour. Store in a dry place in closed container and add to cereal mixture for 5-7% of the total.
Useful wavy parrotm mild Korma: cooked in water without salt cereals made from rice, buckwheat, millet. The consistency of the porridge should be crumbly.
Are the necessary food of animal origin: boiled eggs, low fat cottage cheese, cooked and chopped lean meat and fish. Bread soaked in milk or sweet tea you need to give a little and with caution. Soft food should be given once daily, in the morning.
Every day should give budgies mineral fertilizer, egg shells, small limestone, river sand, chalk. As such, may be Sepia (bio-stone seafood), a piece which should always be in a cage.
The food in the feeder, you should pour small portions. Additionally, the cage should always be a drinking bowl with fresh water.
Note
It is very important to feed birds a balanced diet containing all essential nutrients in correct proportions. The technique of feeding (proper feeding) wavy parrot. Grain mixture is usually poured into the trough of the wavy parrot once a day, in the evening. Then the bird woke up, will not rush to a cage in search of food.
Is the advice useful?
The basis of nutrition and feeding budgies is a grain mixture consisting of about 70% - millet, different types, 10% oats, 20% -in the mix usually consists of Canary seed, hemp, flax, some wheat and Millet etc. should be of different types: red, white, black, yellow. A detailed list of allowed vegetables in the article: vegetables for parrots. Porridge for budgies. For a change of diet can parrots feed cereals.
Note
The diet should vary according to season and period of life birds. Never feed your pet parsley is a real poison for budgies! Don't feed your pet food from your table – human food can lead to metabolic disorders.
Useful advice
Wet mix, use immediately after preparation. The fact that a pet is not eaten must be discarded. Soured food often causes digestive disorders in budgies.