Instruction
Holiday party a long time to us is nothing new. Every year we attend dozens of festivals, and most of them do not leave much trace in the memory. This is because often the birthday boy doesn't quite understand his role. In addition to receiving gifts and congratulations, it is the role of leader, and that means that the holiday must go on with the plan, designed to the last detail.
Furnished. A table, a sofa and pair of chairs - not a festive interior. This does not mean that you need to spend huge sums on buying new furniture of bright colors. Be creative! Garlands, balls, pictures from your previous parties, funny pictures of life guests - all this brighten up the room and sets the mood for the evening.
Treats. Still behind us stretches the Soviet tradition of cooking to the loss of pulse in the early morning, a huge table across the room, barely withstand the weight of dishes. It's time to change something. Leave more time for yourself, it is much better to greet guests in a great mood and beautiful dress, than an apron and sweat.

You will save buffet table. Install a small table in the corner. The variety of dishes depends on your imagination. Canapés, simple salads, and snacks. Japanese cuisine is also a perfect fit with the buffet. On the edge of the table, place small plates and forks (disposable - great for quick cleaning after the holiday).
Next to the main table will set up another smaller table bar. Champagne in buckets of ice, bottles of wine and decanters of brandy - arrange your favorite alcoholic beverages is beautiful, next to the glasses, glasses and glasses. This cookware should only be glass, disposable cups for a birthday party - bad taste.

And don't forget the cake! This important attribute of a birthday just need. Again, it's possible to change the tradition, not breaking them. Half of watermelon with candles, slide the cakes with them - think the snack that will appeal to all guests, and beautiful to put in it a candle. Success is assured.
Entertainment. In addition to food and drinks,guests want entertainment. You are lucky if the company has a couple of people who are ready to take on the responsibilities of leading and will maintain good mood all evening. But we need to be prepared for other developments.

Hot alcoholic drinks more than a positive attitude to all kinds of contests and games. Getting into the bottle by the handle attached to the pants, guess the character written on his own forehead, to compose a poem about the birthday child - simple and uncomplicated entertainment will not leave anyone of the guests.
Advice 2: A surprise guest at her birthday
Birthday despite the well-known song should not be a sad occasion. Regardless of the age of birthday, number of guests and venue, birthday carries a positive charge, vivacity and a bit of magic. And the best gift for a birthday are the smiles and admiration of the guests.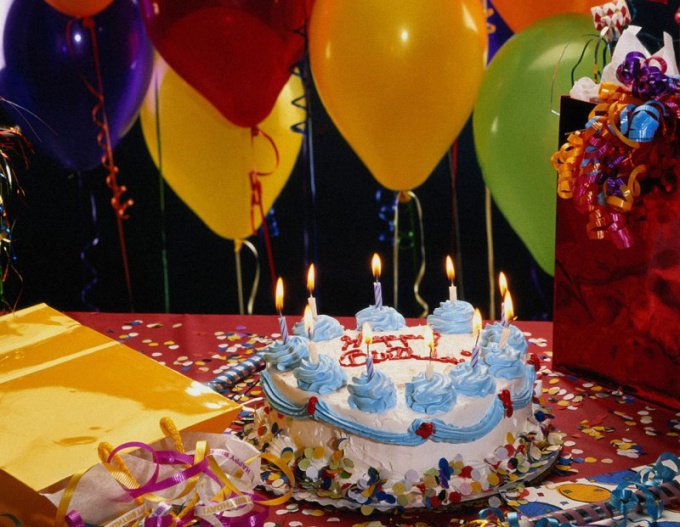 Holiday themed


Surprise your guests themed party. For example, birthday party in gangster style. Send an invitation in the form of leaflets with an inscription: "Wanted..." and his picture. Decorate the venue of the attributes in the spirit of the mafia in Chicago. Think of tenders, and prepare the props.

In addition to the gangster, you can use the explore cowboy-themed, etc.

Swipe the Olympics named after himself, arranging for guests to race on a short distance around the yard and other types of Olympic sport, be adjusted to them under the scale of your event. Don't forget about the medals. The comic coin can be bought in any joke shop and creative gifts.

You may not have time to celebrate Halloween. Arrange a birthday coven evil. Invite guests to dress in costumes of witches, vampires, or zombies. Bring in the victim of the failures of the past year in the form of paper dolls, which will be written by all your frustration.

Try also to fall in childhood and invite your friends to the "baby boom". Let everyone dress up babies, and cocktails are served in bottles with nipples.

Can surprise your guests with black humor and play in a psychiatric hospital, where some imagines himself to certain historical figures, while others will be in the role of doctors to feed them sweet pills and to prescribe how many tablespoons of a salad every sick person should eat.

Or arrange a resort with an inflatable pool full of special balls. Can be filled with water provided that it is the first floor (so you don't accidentally flood the neighbors) and you advance to lay the oilcloth on the floor (so as not to ruin your floors).

Cut-out cardboard large format palms and attach them on the wall and on the chandelier, hang a cardboard sun. Will just have to buy a chic bathing suit to walk in it among the guests, as on the catwalk.


Dishes of the highest class


Learn the original recipes and practice cooking delicious dishes. For example, for dessert you can make Chinese fortune cookies inside. Let every prediction will be fun, so no one is left without a ray of your joy.

Bake an unusual cake, try to make home-made liqueur or mix interesting cocktails. Don't be afraid to experiment in all areas of cooking.


Gifts to all guests


According to tradition, the birthday boy decided to give gifts. Update the tradition and surprise each guest with a symbolic gift from yourself. Gifts can be different in color and form, but not necessarily in the same price range, not to offend anyone. And guests will be happy and you in their eyes will look for an owner.
Useful advice
Don't get carried away with the entertainment, always remember that it's your holiday, and obligations of the lead you can always shift to your best friend.