Tips for proper preparation of pilaf
In order to make real, high-quality plov it is necessary to observe the ratio of products. Remember that meat, rice and carrots need to take 1 kilogram, not more and not less. The lamb must be without bones and flesh, we only need 2-3 slices on ribs for fat content and taste. Rice is better to take oblong, steamed, not boiled and it is not sticky, but stays loose and for a good pilaf.
Meat for proper risotto should not be washing, you can blot it with a wet cloth and only in case if it got any dirt or dust. Carrots must be cut with a knife thin slices, do not RUB it on a grater or grind in a blender. The bow can take any quantity to taste, but be sure to stock a little onion, so she took all the harmful substances fried oil. Rinse the rice until until the water is clear. And, of course, you should use a cauldron – cast iron or aluminum.
Recipe pilaf with lamb
Ingredients:
- mutton flesh, 1 kg;
- lamb ribs, 2 pieces;
- rice, 1 kg;
- carrots, 1 kg;
- bow 4 pieces + 1 small;
- sunflower oil;
- garlic, 3 heads;
- seasoning for pilaf (cumin, barberry).
The cauldron heat, pour the sunflower oil and drop a small onion for 5 minutes, and then catch it and throw it away. Fry the lamb chops for 10-15 minutes, remove from the pot and place in a bowl. Fry in a cauldron in the same butter cut into small pieces the onion.
How much will fried onions, depends on the color of pilaf, which in the end you'll have a Golden or white.
Add the onions chopped into small pieces of lamb meat. Fry it in a pot over high heat, stirring occasionally so as not burnt.
Meat that is fried, not braised!
To browned meat put carrots, cut into thin slices. Let it soften for about 5 minutes, then stir in onions and meat. Cook 20 minutes, stirring constantly.
Pour into the cauldron boiling water to the top to keep the meat and vegetable mixture all the way there disappeared. Add the previously fried ribs, seasoning, garlic, pepper and salt.
The taste of the water should be slightly salty.
Reduce heat and allow to boil the mixture for 40-50 minutes. Again, turn the fire to full capacity. Pour into the cauldron rice, flatten it and fill with boiling water just above the grains. While cooking the rice, stir impossible, it's generally better not to touch. Simmer under the lid closed for about 1 hour, add water as needed.
When grits are tender, correct the pilaf is ready. Now it needs to be mixed, and then put it on plates.
Advice 2: How to cook pilaf with lamb
Real plov, of course, is only of lamb. This is a very tasty dish that, unfortunately, knows how to cook every woman – some it is similar to rice porridge, gruel with bits of meat. For cooking pilafand, in addition to good products, you'll need a little courage and mood. And in order to make a pilaf of mutton, you will need our advice.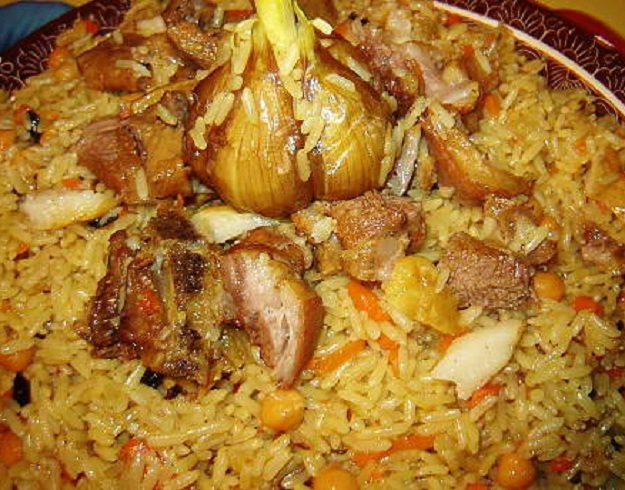 You will need
ribs
neck - 1 kg;
Onion – 0.8 kg;
Carrots – 0,5 kg;
Rice "basmati" or "Jasmine" 0.8 kg;
Spicy red pepper 0.5 pod;
Spices – coriander
Zira
barberry
turmeric
saffron black pepper;
Garlic
3-4 heads;
Vegetable oil 0.5 liters
Salt.
Instruction
Meat wash and cut into not very small pieces. Bone, if very large, cut, but no big deal, they also come in handy. Cut the onion half rings, carrots – julienne, but you can RUB it on a coarse grater or mandoline.
Put a pot or a pan with thick walls on fire, pour oil into it and rascality until the grey fog. Drop big bones, if they are fry, the meat began to get behind them, place in a bowl. Begin to cook meat, it should immediately be roasted, not braised. If a lot of meat, you can fry it in 2-3 hours. Fried meat place in a bowl to the bones.
The remaining heat in the cauldron oil and put the onions, stir and continue to fry until it Zabolotets.
Put carrots, stir fry 3 minutes, then put in the cauldron meat and bones, pour a small amount of hot water so that it only covered the vegetables and meat, add salt, put all the spices, hot pepper. When boiling, reduce heat to minimum, close the cauldron lid and leave to stew for 1 hour.
After the meat and vegetables extinguish, pour the rice into the cauldron. The rice is not pre-rinse and do not soak. Flatten it and add water to it was two fingers above the level of rice. Make fire stronger when it boils, leave on high heat for 5 minutes, then 5 minutes let it boil on medium heat for another 5 minutes on very low.
Make rice deepening to the bottom of the pot and put in a whole head of garlic, close the cauldron lid, turn off the heat and leave it so for about 20 minutes.
Open the cauldron and put the pilaf on a large platter, sprinkle with herbs.