You will need
is organza;
feed-gossamer (2 cm wide);
- wool;
the outline on the fabric (thin tube with a spout);
- clear nail Polish;
- glue gun;
- colored pencils;
- glitter-gold;
- handle;
Instruction
To choose the motive of the wings of butterflies. You can download from the Internet, choosing suitable color and size.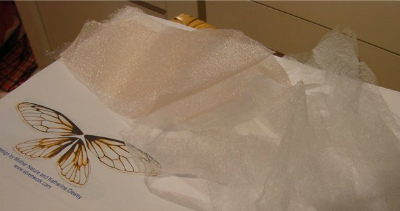 Cut 2 of piece of organza slightly larger than the wings. On the first piece you put the tape cobweb, the second cover and glue them using the iron, gently propadu those two pieces.
It will be enough and three strips of the webs, to get a uniformly glued piece of double layered organza.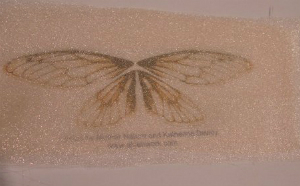 To draw with a pen the outline of the wings, to make it easier to redraw on the fabric.
Further on the motif of the wing to put the workpiece organza and circle liner for textile DECOLA.
Can draw on both sides. Once dry, iron the iron through a cotton cloth to fix the dye.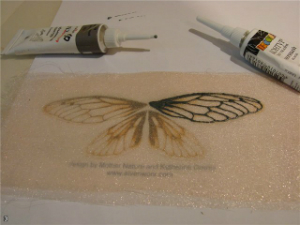 Using colored pencils to color the butterfly.
Apply on the wings of colorless nail Polish, sprinkle glitter-gold.
Cut carefully with scissors along the contour of the finished wings.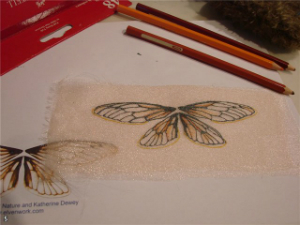 Felting of wool in the palms of the body of the butterfly, with tucked the tip body and the fixing thread, thereby to form the head.
Wings to glue with hot gun to Taurus.
Antennae to make fishing line, vdev them in the head and painting the outline for the complexity of perception. Allow to dry.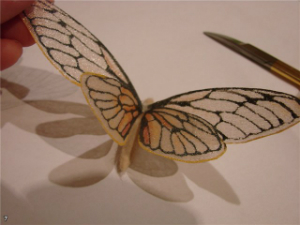 If the body of the butterfly to stick a little pin in the air beauty can be used as brooches if the rubber band or a hair pin - hair jewelry.