You will need
4 piece chicken;
150 g of hard cheese;
salt and ground black pepper to taste;
spices for chicken.
Chicken rolls with mushrooms:
4 piece chicken;
300 g of fresh field mushrooms;
1 onion;
3 tablespoons of sunflower oil;
100 g of sour cream;
100 g of mayonnaise;
2 cloves of garlic;
salt and pepper to taste.
Instruction
Chicken fillet under surapranata fillet of chicken breast under water and Pat dry with paper towel. Place fillets between two layers of cling film and lightly beat off with a hammer. Each piece of pepper and salt to taste, you can add special spices for chicken. Put the pan on the fire and pour a 2-3 tablespoons of sunflower oil. Gently place in hot oil, the pieces of fillet and fry on high heat on one side. Flip slices to the other side with a spatula, and sauté for 7 minutes and place on top sliced thin slices of cheese. Cover, reduce heat, and cook the dish for another 5 minutes. Serve the chicken fillet and cheese hot with any garnish mashed potatoes, rice, vegetables.
Chicken rolls with rebamipide fillet under running water and dry with paper towel. With a sharp knife cut each piece of chicken breast lengthwise into 2 pieces. Prepare the stuffing. Mushrooms peel and cut into small cubes. Onions grind in a blender. Put the pan on the fire and heat 2 tablespoons of sunflower oil. Put the mushrooms and onions, add salt and pepper and fry mushrooms with onions on high heat for 10 minutes. Set aside the pan aside and let the stuffing cool slightly.
Slices of fillet lightly beat off with a hammer using the cling film, add salt and pepper to taste. On each slice put a tablespoon of stuffing and roll rolls, securing it with thread or toothpick. In a separate bowl, mix the mayonnaise with sour cream and chopped garlic. On a greased baking sheet lay out chicken rolls, top coat creamy garlic sauce and place in preheated oven. Cook the dish at 180 degrees for 45-50 minutes. Finished rolls exempt from threads or toothpicks and cut into medallions. Bon appetit.
Advice 2: How to cook chicken breast
Chicken
Breasts
are a very useful product that contains a small amount of cholesterol. But, unfortunately, not always possible to cook them so they turned out juicy and delicious. And here's a dish prepared according to our recipe, will exceed all your expectations.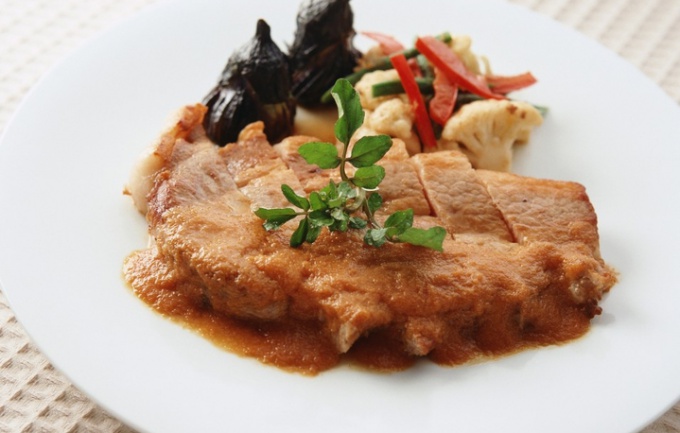 You will need
Chicken breast (fillet) – 0,5 kg;

eggs – 2-3 pieces;
mayonnaise – 3-4 tablespoons;
flour – 3-4 tablespoons;
salt and spices – to taste.
Instruction
Chicken Breasts and wash thoroughly, let dry, gently peel and divide them into 2-3 pieces.
Make a marinade for the Breasts. To do this, mix eggs, mayonnaise, flour, salt and spices.
The resulting sauce dip Breasts to marinate for 2-3 hours (or 4-5 hours if Breasts are frozen).
In a pan heat the vegetable oil and fry in it the chicken Breasts on both sides until Golden brown. Approximate cooking time chicken Breasts 20-25 minutes.
Very juicy chicken Breasts turn out, if not fry and bake in the oven. To do this, just need the breast to spread out on a greased baking sheet and place in oven heated to 180-200 degrees. Baking time is 30-40 minutes.
Before serving, can sprinkle the dish with greens.
Is the advice useful?
Optional fry breast, they are in raw form can be stored in the refrigerator for about 3 days.


Before baking chicken Breasts in the oven they can be lubricated with mayonnaise, they will not only be softer but will have a nice Golden color.


When choosing Breasts need to be very careful. Skin color should be the former and fresh, and the breast itself should not have an unpleasant odor.


To add some spice to the meat in the marinade, you can add a small amount of white wine.

To breast have not lost their taste is very important not to overcook, but at the same time bring to readiness. You can check this by gently stabbing it with a thin knife, if clear juice, the meat is ready.


Cooked chicken Breasts should be served immediately after cooking, since poultry tends to quickly lose its taste and attractive appearance.

As a side dish to chicken breast is perfectly suitable young boiled potatoes, rice or spaghetti.